Captain Fantastic
Matt Ross, USA, 2016
o
Deep in the forests of the Pacific Northwest, a father devoted to raising his six kids with a rigorous physical and intellectual education is forced to leave his paradise and enter the world, beginning a journey that challenges his idea of what it means to be a parent.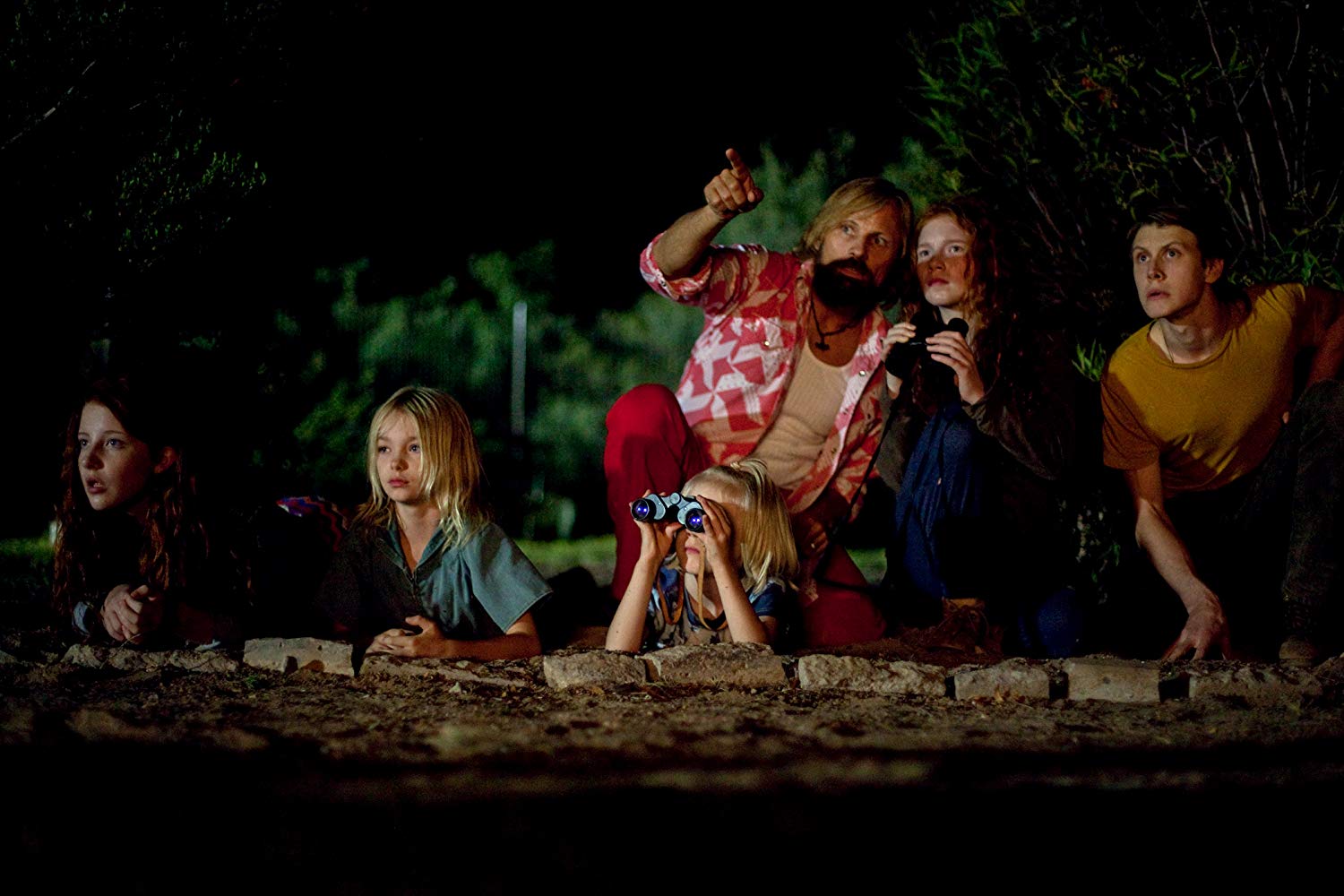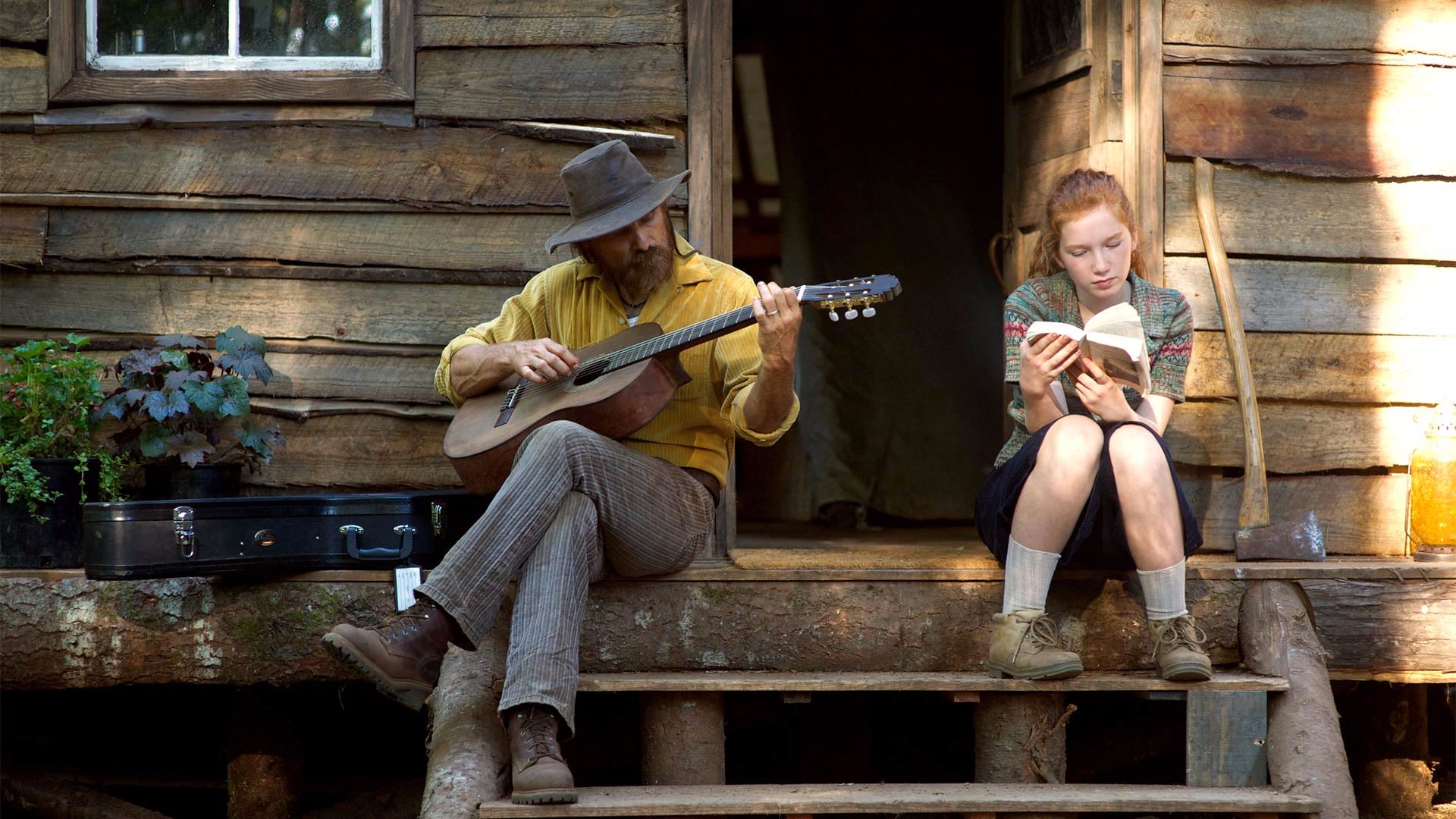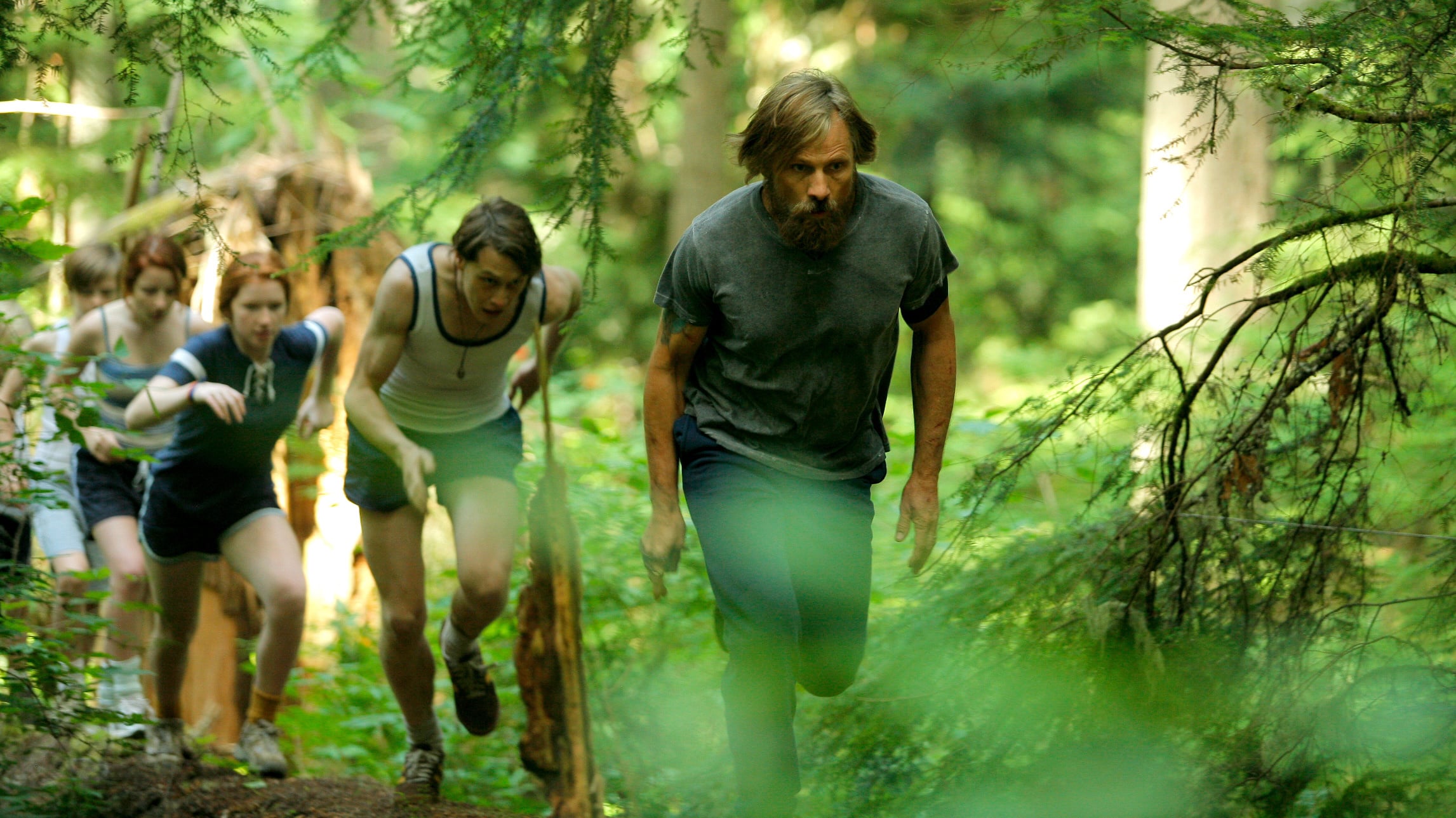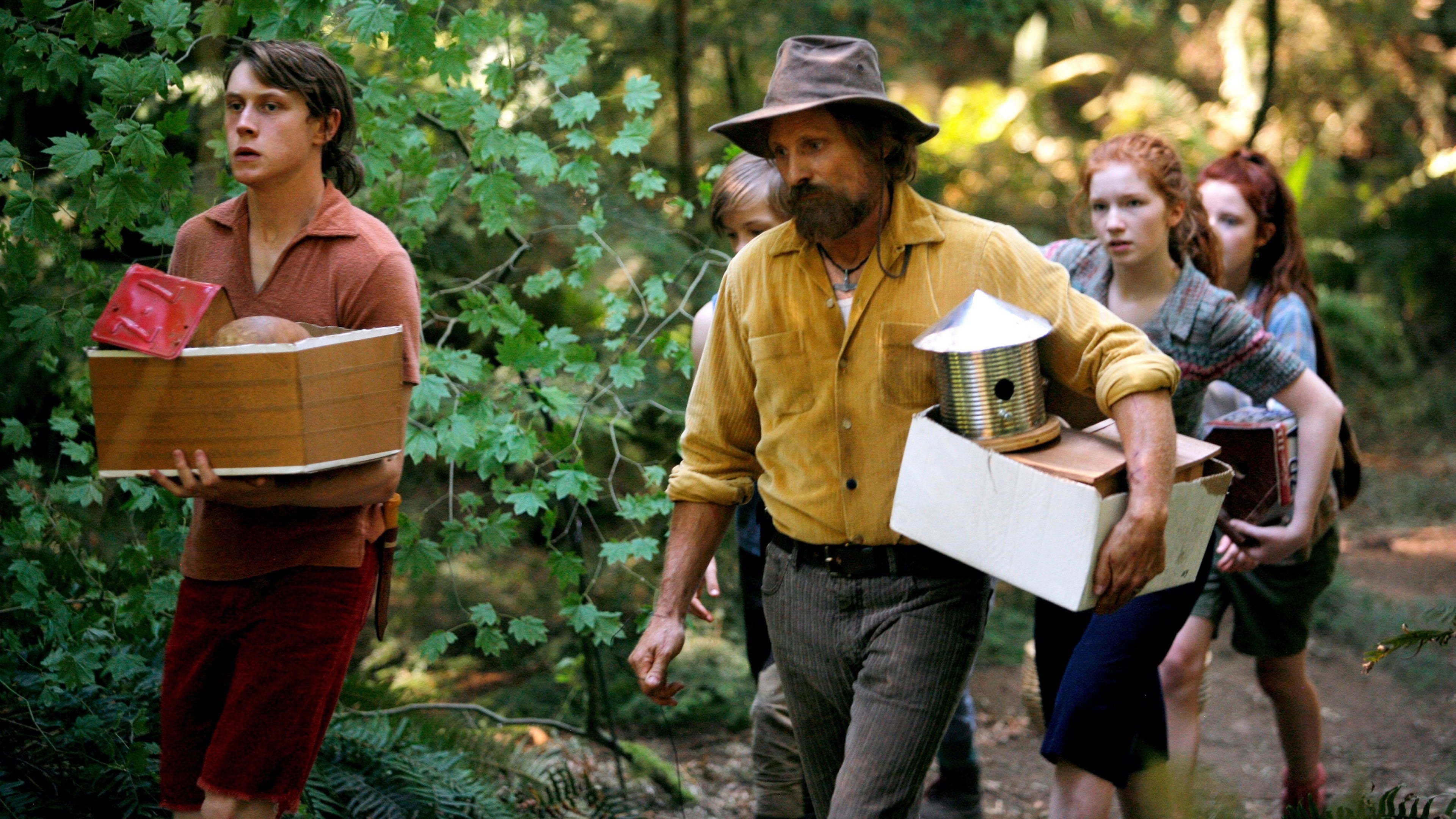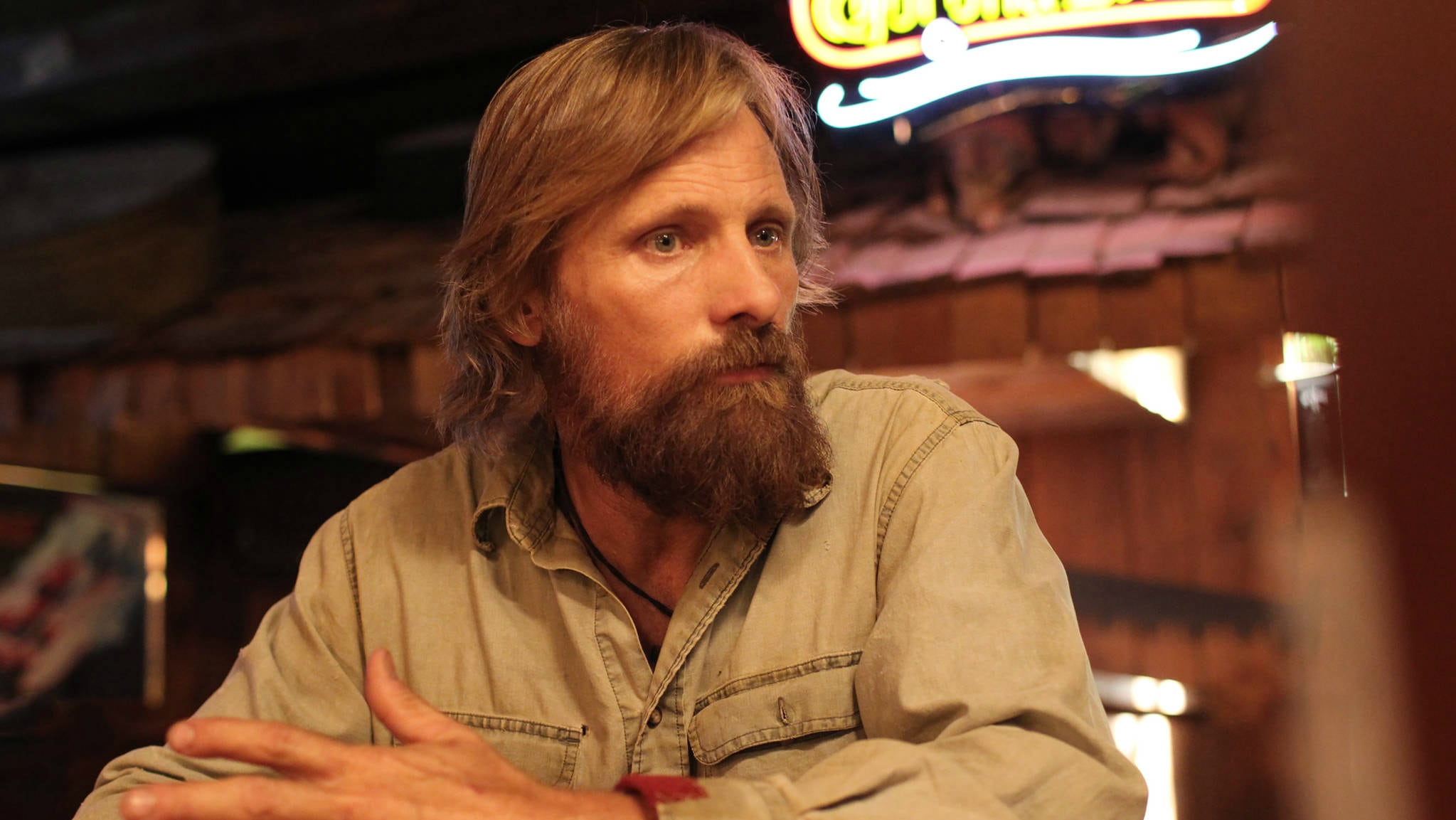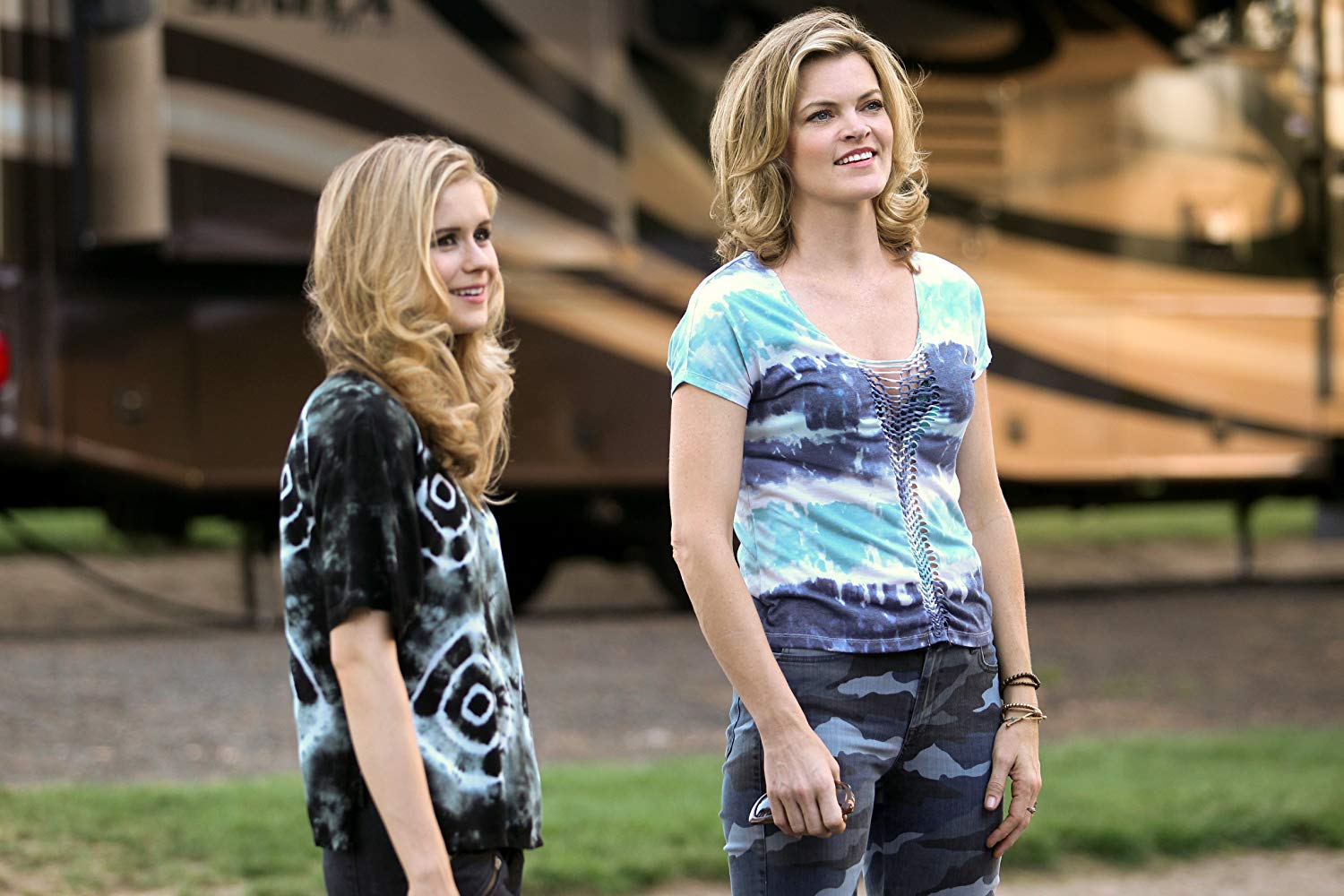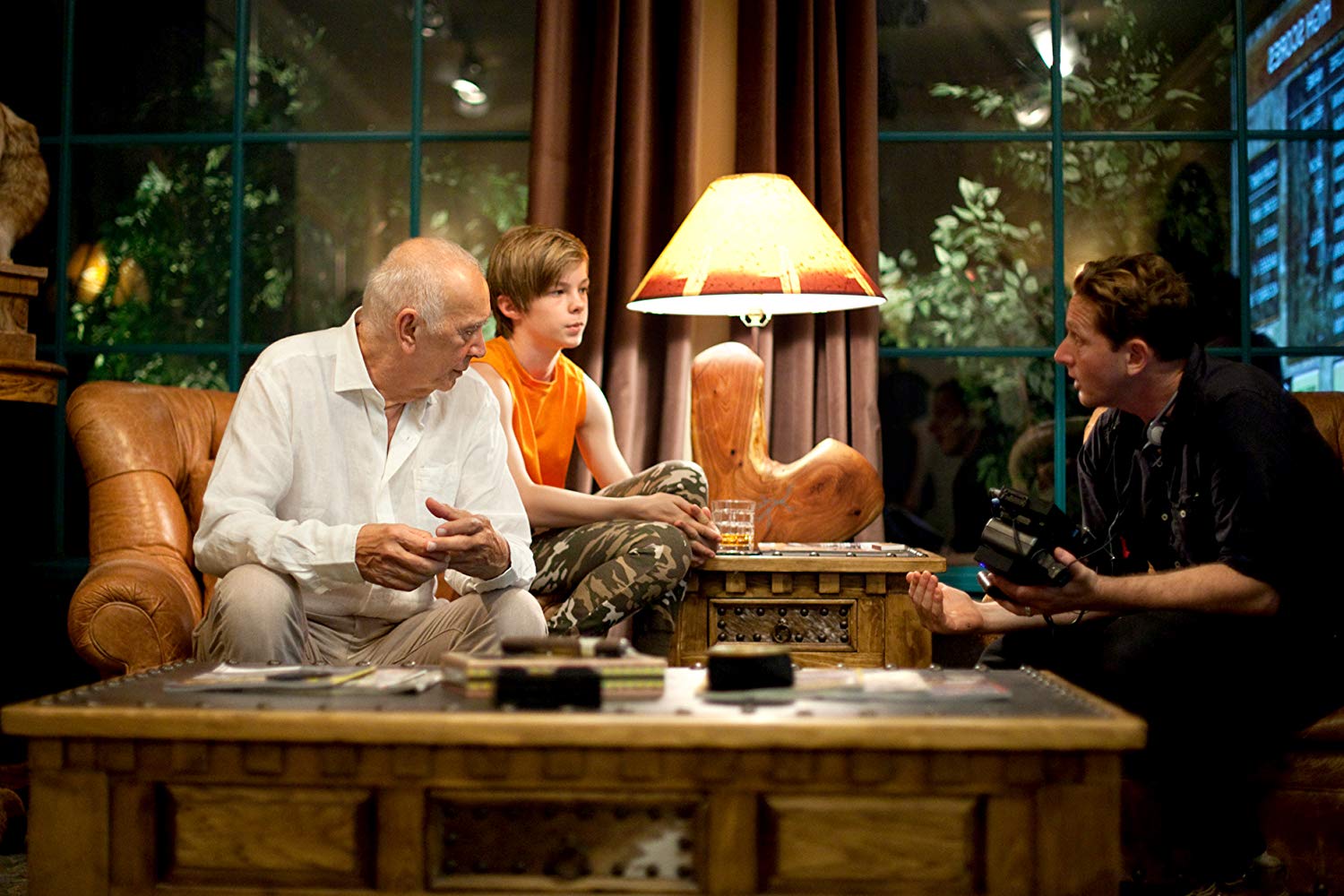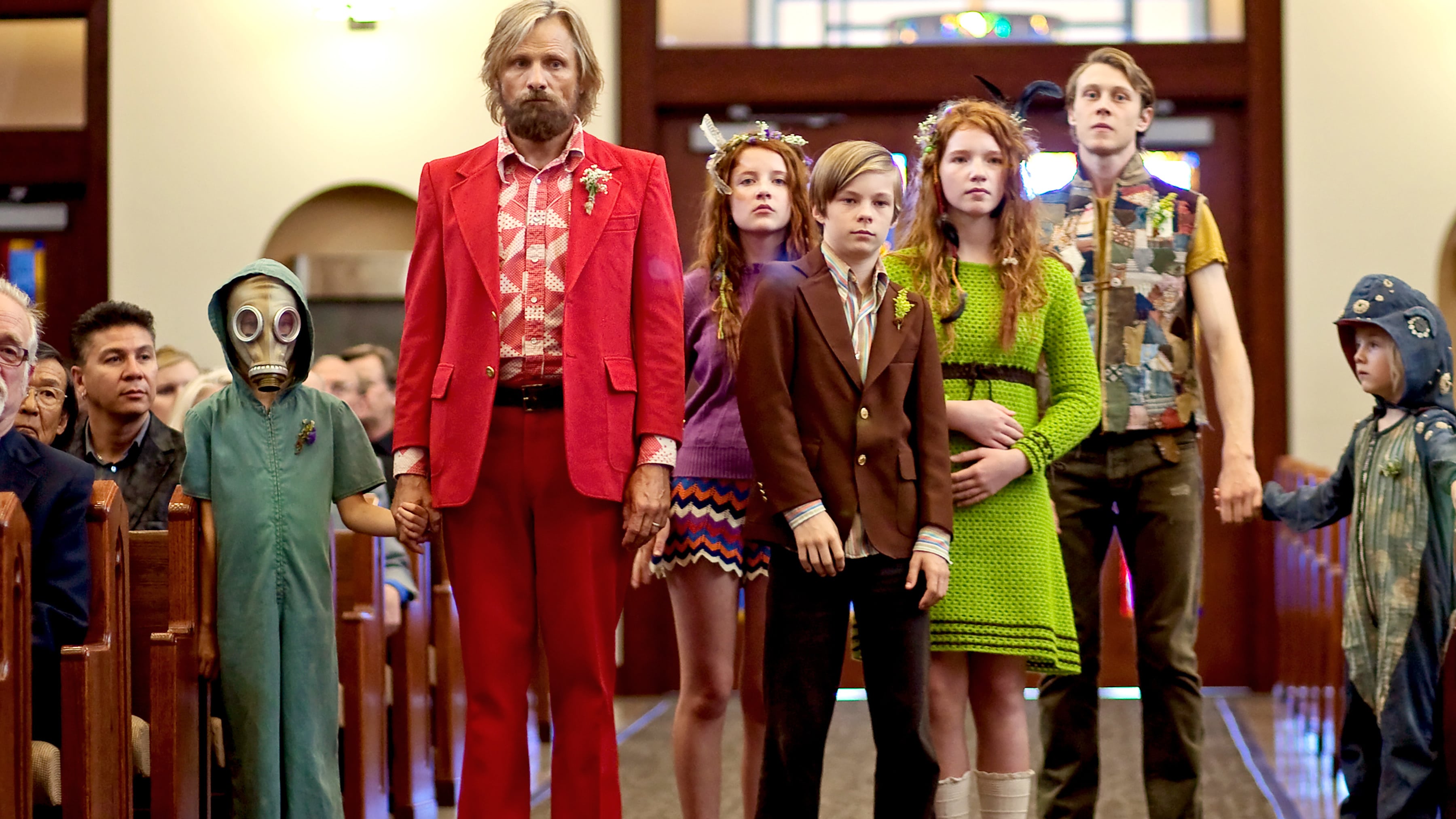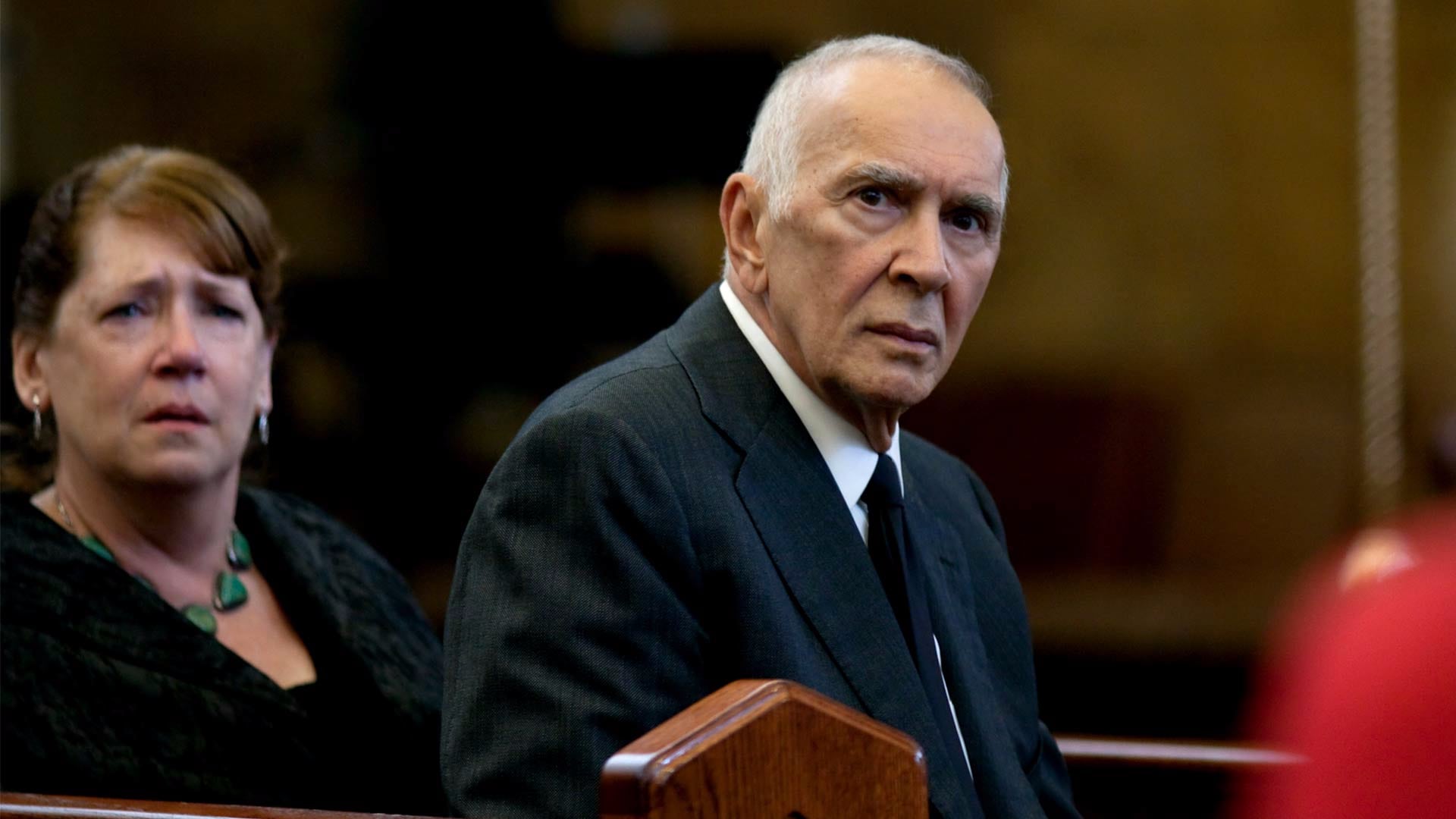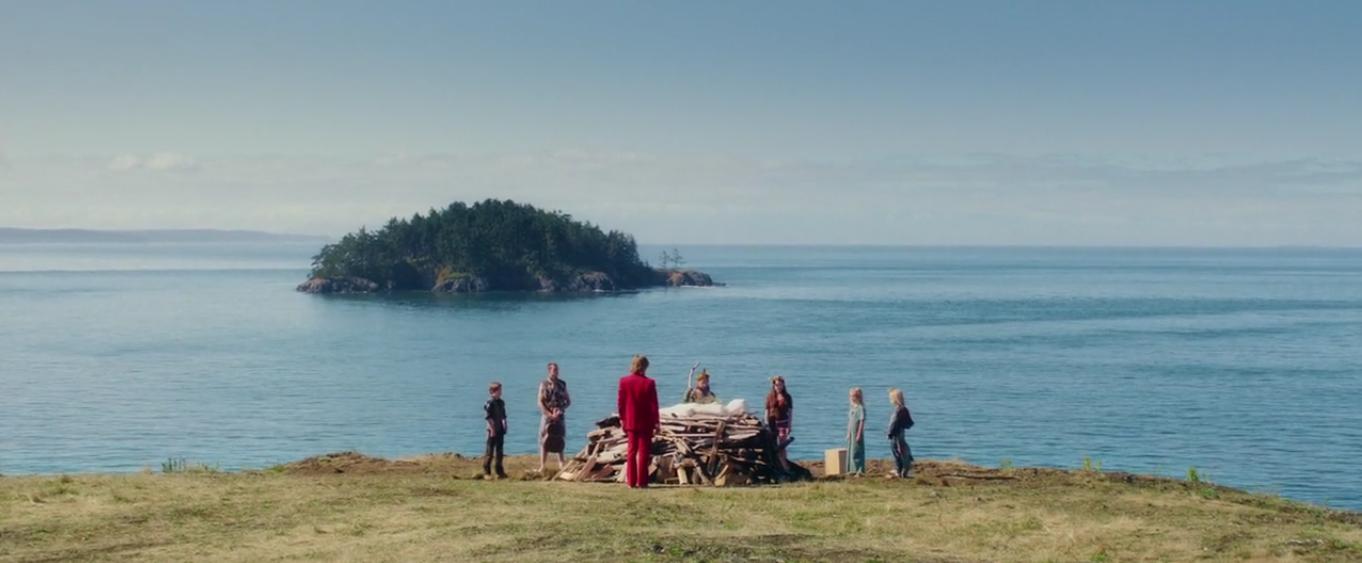 Thrilling and poignant
Viggo Mortensen leads an outstanding cast as a grizzled rural eccentric who hits the road with his brood of home-schooled, off-grid children.
The actor turned writer-director Matt Ross insists his appropriation of an Elton John album title for his second feature was "subconscious" and entirely accidental. Yet as I watched this strange and wonderful tale of an isolated family living a back-to-nature existence in the forests of the Pacific Northwest, fragments of Bernie Taupin's sublime lyrics from the 1975 title track of Captain Fantastic and the Brown Dirt Cowboy kept drifting through my mind – from the disdain for "cheap easy meals" to the rejection of organised religion ("all this talk of Jesus coming back to see us") and the assurance that "from here on sonny, it's a long and lonely climb".
Most notably, as the off-the-grid lifestyle he has fashioned for his family starts to come apart at the seams, the question posed at the end of one verse prefigures the central dilemma facing Viggo Mortensen's paterfamilias Ben Cash: "Should I make my way out of my home in the woods?"
We open with George MacKay's mud-covered Bodevan "Bo" Cash ("our names are unique; there's only one of us in the whole world…") tracking and killing a deer, prompting his father, the Bear Grylls-like Ben, to announce: "Today the boy is dead, and in his place is a man." Bo is one of six brothers and sisters, aged seven to 18, who have been raised to fend, fight, and think for themselves in these woods. By day they hunt for food and scale rocky cliffs; at night they read The Brothers Karamazov and Middlemarch, while earnestly discussing Marxism and Noam Chomsky. It's meant to be a paradise born of Plato's Republic, but did this crazy life soothe or exacerbate the bipolar disorder that afflicted their now absent mother, and for which various family members blame Ben?
From its Lord of the Flies opening to the hints of Manson-family madness (knife-obsessed kids led by a wild-eyed beardy charismatic man), Ross's grand adventure injects a note of darkness into its Edenic setting. Like his younger brother Rellian (Nicholas Hamilton, channelling River Phoenix in Stand By Me), Bo dreams of escaping into the wider world, into the society his parents rejected.
When a family feud about a forthcoming funeral in New Mexico turns Captain Fantastic into a road movie, the Cash clan encounter supermarkets, trailer parks and suburban family suppers for the first time, with lively culture-clash results. Tempers flare at the home of Ben's sister Harper (Kathryn Hahn), where the Cash kids are mocked for thinking that Nike was a Greek goddess rather than a shoe, and Dave (Steve Zahn) wrestles with Ben's sanctimonious fondness for telling "the truth". Meanwhile, Ann Dowd and Frank Langella lend depth to the role of grieving parents whose animosity towards Ben becomes ever more understandable.
While smoke from the narrative pyre signals both Grand Theft Parsons and What We Did on Our Holiday, this is closer in tone to the anarchic indie spirit of Jordan Vogt-Roberts's wonderful The Kings of Summer with which it shares both an anarchic rural streak and a melancholic existential ennui.
Ross, whose own upbringing involved communes in northern California and Oregon, says that his film asks whether Ben is "the best father in the world or the worst" and Mortensen does a terrific job of keeping both possibilities alive. A pointed discussion of Nabokov with Ben's super-smart kids flags up the question of how loving or abusive his parenting may be, leaving our own sympathies divided.
Cinematographer Stéphane Fontaine (best known for his work with Jacques Audiard) balances the beauty of the landscape against the toughness of the children's lives, while Courtney Hoffman's magpie costumes tell their own stories, from Ben's poignantly dated wedding suit to the skins, patchworks and hand-me-downs that adorn the kids. Alex Somers's surging musical soundscapes tug at the heartstrings, but it's the diegetic songs that really strike a chord, from an early sequence in which a plaintive guitar duet is disrupted by young Rellian's rhythmic alarums, to a Wicker Man-style reworking of Sweet Child O' Mine that reduced me to tears. Elsewhere, Ross superbly segues from the soporific elevator tones of My Heart Will Go On to Bikini Kill's Rebel Girl during an outrageous supermarket sweep.
With its thrillingly life-affirming performances, it's a shame that Captain Fantastic's "strong language" has earned it a 15 certificate; there's more here for adolescent audiences to enjoy and appreciate than in much 12-rated blockbuster fare. He may not be a superhero, but in terms of imagination, this captain really can fly.
The Independent, 9/6/2016

8/19/2016
App-Idioten und Konsumjunkies bleiben draußen
"Captain Fantastic" hätte auch eine Komödie werden können. Aber der militante Hippie-Vater, gespielt von Viggo Mortensen, macht keine Gefangenen.
Bodevan, Kielyr, Vespyr, Rellian, Zaja, Nai: die Namen der Kinder von "Captain Fantastic" klingen ein wenig so, als hätte sie ein moderner Ossian erfunden, ein Sagenschreiber, der aber auch Modemarken branden könnte. Die Sache ist schnell erklärt. In dieser Familie ist jedes Mitglied so individuell, dass es nicht auf einen Namen hören sollte, den andere auch tragen. Draußen ist die Welt, in der ein Donald, der Präsident werden will, den Vornamen mit einem Enterich teilt, der nie ein Geschäftsimperium haben wird. Daraus ist nicht sofort abzuleiten, dass in dieser Welt alles auf Konformismus hinausläuft. Sicher aber ist, dass Bodevan, Kielyr, Vespyr, Rellian, Zaja und Nai nicht konform gehen: nicht mit der Welt, nicht mit dem Lehrplan der Schulen und sicher nicht mit der herrschenden Ideologie.
Allein im Wald
Das sieht man besonders deutlich daran, dasss bei "Captain Fantastic" das Fest Weihnachten ausfällt, hingegen wird ein Noam-Chomsky-Day gefeiert, als wäre der eigentliche Messias ein Sprachwissenschaftler, der auch bedeutende Bücher über Wirtschaft und Gewalt schreibt.
Sechs Kinder hat Ben Cash. Aber wo ist die Mutter? Sie ist in einer Anstalt. Leslie hat schwere psychische Probleme, sie hält es mit dem Leben nicht mehr aus, also nimmt sie es sich. Den Selbstmord der Mutter versucht der Vater den Kindern so beizubringen, wie seine Pädagogik insgesamt ist: auf eine höchst rationale Weise. Bei den Cashs gibt es keine Schutzfiktionen, sondern es wird alles beim Namen genannt. Es gibt auch nur ein Wort, das zählt. Denn die Familie lebt im Wald, mit anderen Leuten kommen die Kinder so gut wie nie in Berührung. Nach dem Unterricht, der von Beginn an mit kleinen Erwachsenen rechnet und sich um Jugendschutz nicht zu kümmern scheint, gibt es Survival-Training. Wer brav ist, bekommt zum Geburtstag ein Messer. Das heißt aber nicht, dass die Cashs auch nur in irgendeiner Weise etwas mit der National Rifle Association zu tun haben wollten.
Kein Universitätszeugnis vom Vater
Die Pointe von "Captain Fantastic" liegt ja eben darin, dass ein gesellschaftliches Phänomen, das in Amerika eher mit der Rechten assoziiert wird, vor einem linksutopischen Horizont neu durchdacht wird. Viele Menschen, die dem Staat misstrauen oder ihn aus ideologischen Gründen ablehnen, nehmen ihre Kinder aus der Schule, unterrichten sie in "charter schools" nach eigenen Lehrplänen und ziehen sich insgesamt aus den institutionellen Zusammenhängen zurück. Der Nordwesten, wo es zu Beginn dieses Jahres in Oregon einen "standoff" zwischen den Behörden und Militanten gegeben hat, ist eine bevorzugte Landschaft für diese Milieus. Auch die Cashs haben sich dorthin zurückgezogen, in eine prächtige, leuchtende Landschaft, die alles hat, was es zum Leben braucht. Immer vorausgesetzt, man ist in der Lage, Wild nach Indianerart zu erlegen.
Der Vater ist eindeutig ein Despot, aber eben einer, der es sehr gut meint. Und wer würde einem idealen Hippie wie Viggo Mortensen, der sich für den Gang in die Welt in einen roten Anzug wirft, nicht folgen wollen? Die Kinder vergöttern ihren Vater, aber der Tod der Mutter wirft Fragen auf. Und auch das Heranwachsen. Für Bodevan stellt sich nämlich spätestens jetzt die Frage, ob er nicht doch studieren sollte. Der Vater weiß vieles, aber er kann keine Universitätszeugnisse ausstellen.
Ein "hochattraktiver Sonderling"
Vor zehn Jahren machte sich in dem Film "Little Miss Sunshine" eine schräge Familie aus New Mexico in einem alten VW-Bus auf den Weg nach Kalifornien. Von dieser sehr erfolgreichen Expedition hat sich wohl auch Matt Ross ein wenig inspirieren lassen. Er ist eigentlich eher als Schauspieler bekannt, in der Serie "Silicon Valley" hat er es mit einem Milieu zu tun, das alle möglichen alternativen Entwürfe produktiv macht. Der "Captain Fantastic" übertrifft "Little Miss Sunshine" gleich einmal in einer wichtigen Hinsicht: Er steuert nämlich einen Schulbus. Das Fahrzeug könnte symbolischer nicht sein, und zum Einsteigen sind alle eingeladen, die von Büchern noch etwas erhoffen, die über die kleinteiligen Fraktionierungen der Linken im zwanzigsten Jahrhundert Bescheid wissen wollen und die die "Bill of Rights" auswendig können. Draußen bleiben sollten App-Idioten und Konsumjunkies.
Die Fahrt geht nach Süden, durch die Sonnenstaaten, vor allem aber durch einen amerikanischen Mainstream, mit dem die Extremistenfamilie des "Captain Fantastic" nicht vollständig unvermittelt bleiben kann. Was dabei auf dem Spiel steht, ist auch sehr wesentlich väterliche Autorität. Viggo Mortensen ist eine gute Wahl für diese Rolle, weil seine Attraktivität etwas Introvertiertes hat. Er spielt einen hochattraktiven Sonderling, und bald wird klar, dass vielleicht nicht so sehr die Kinder es sind, die erlöst werden müssen.
Es ist der Vater, der aus der Verstockung herausfinden muss. Dass die Reise zu den Eltern von Leslie geht und dass das Ziel ist, den Leichnam der Mutter vor einer Erdbestattung zu retten, lässt erkennen, dass "Captain Fantastic" auch eine Komödie hätte sein können. Matt Ross aber ist klug genug, den Pioniergeist, den er die ganze Zeit durchscheinen lässt, nicht zu denunzieren, indem er ihm zu leichte Gegner gibt. Vor allem die Begegnung mit Leslies Vater (großartig wie zumeist: Frank Langella) wird für Ben zu einer echten Herausforderung. Er wächst an ihr.
Die Alternative zur Komödie wäre ein Ernst, der gerade bei diesen Themen leicht in Kitsch umschlagen könnte. Doch auch das vermeidet Ross. "Captain Fantastic" kommt am Ende bei einer Haltung an, mit der man zur Not auch Weihnachten feiern könnte: common sense.
Interview with actor Viggo Mortensen
Interview with director Matt Ross
Captain Fantastic: The Unofficial Reading List
Interview with Director Matt Ross
Movie Data
o
Other titles
Captain Fantastic – Einmal Wildnis und zurück
DE
Genre
Drama, Adventure, Comedy
Original language
English
Bonus
o
Interview with actor Viggo Mortensen
Interview with director Matt Ross
Captain Fantastic: The Unofficial Reading List
Director Matt Ross on "Captain Fantastic"
Review Frankfurter Allgemeine Zeitung
Interview with Director Matt Ross