Pawn Sacrifice
Edward Zwick, USA, 2015
o
In a gripping true story set during the height of the Cold War, American chess prodigy Bobby Fischer finds himself caught between two superpowers when he challenges the Soviet Empire. Also starring Liev Schreiber and Peter Sarsgaard, Pawn Sacrifice chronicles Fischer's terrifying struggles with genius and madness, and the rise and fall of a kid from Brooklyn who captured the imagination of the world.

Der Film hinkt zu Anfang ein wenig, aber Tobey Maguire und Liev Schreiber sind fantastisch in ihren Rollen (auch wenn Schreibers Russisch ziemlich schlecht sein soll). Und in der finalen Konfrontation wird «Pawn Sacrifice» dann doch noch zum spannendsten Kriegsfilm der Saison.
ggs

Genie und Wahn gehen auf dem Schachbrett eine besondere Verbindung ein, die unüberschaubare Menge von Möglichkeiten, die sich nach den ersten Zügen eröffnet ist einfach zum verrückt werden. Edward Zwick , der inzwischen die dunklen Seiten des Heldentums für sich entdeckt hat, macht aus seiner Verfilmung des legendären Schachduells zwischen dem Amerikaner Bobby Fischer (Tobey Maguire) und dem Russen Boris Spasski (Liev Schreiber) einen Verschwörungs-Thriller, in dem intime Tragödie und die Paranoia des Kalten Krieges fließend ineinander übergehen.
Anke Sterneborg
Biografischer Film über den US-amerikanischen Schachspieler Bobby Fischer (1943-2008), der bereits in jungen Jahren unter paranoiden Vorstellungen vor dem Hintergrund des Kalten Krieges leidet, bevor er 1972 den Weltmeistertitel im "Match des Jahrhunderts" gegen Boris Spasski gewinnt. Der schauspielerisch ideal besetzte, eher trocken inszenierte Film entfaltet in der Auseinandersetzung mit der Mutter sein großes Spannungspotenzial und wird von humorvoll inszenierten Kapriolen des am Wahn entlangschlitternden Genies aufgelockert. Die Analogie zwischen dem Weltmeisterschaftskampf und dem Wettstreit zwischen West und Ost wird freilich nur wenig hintergründig thematisiert.
N.N.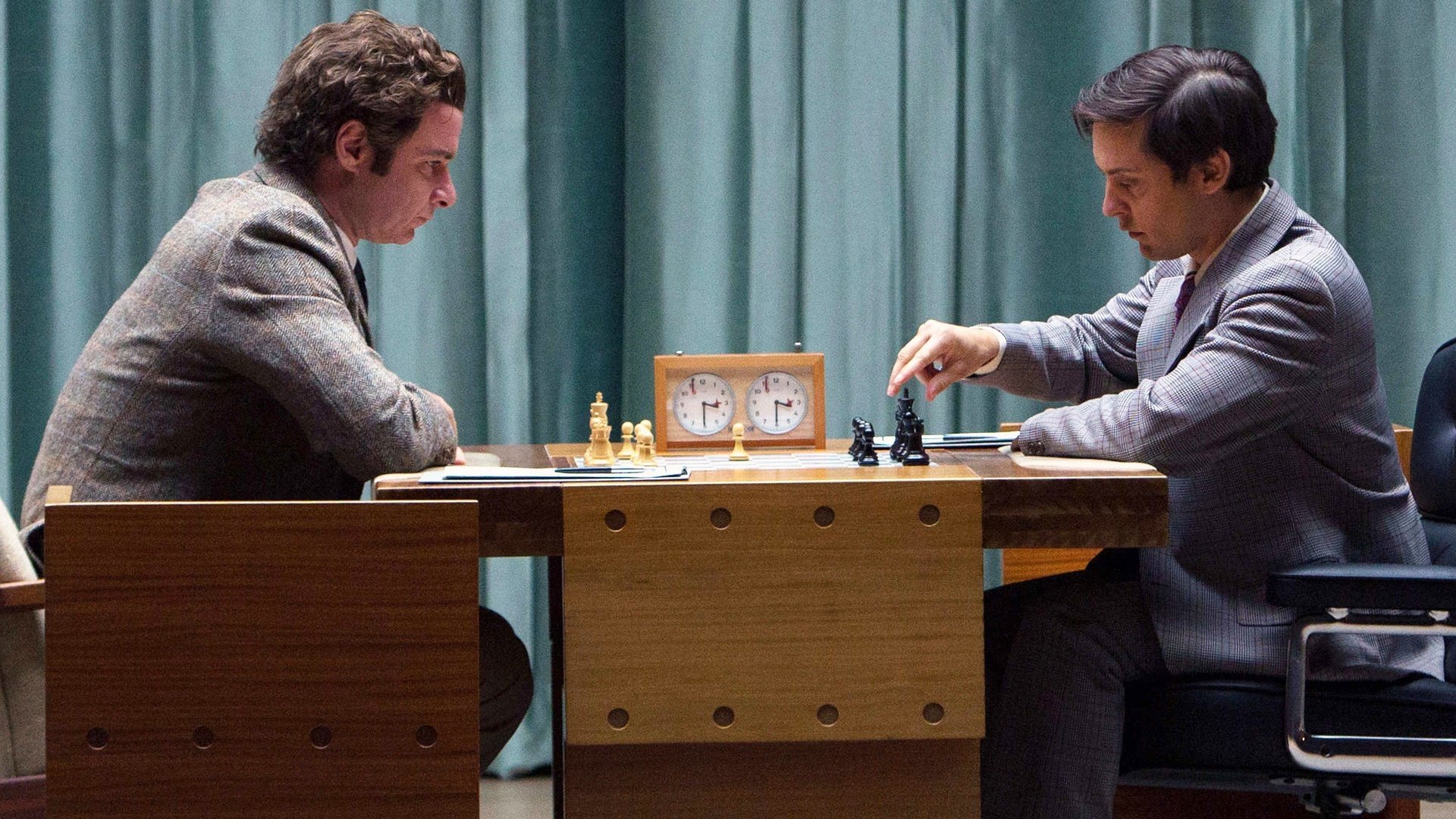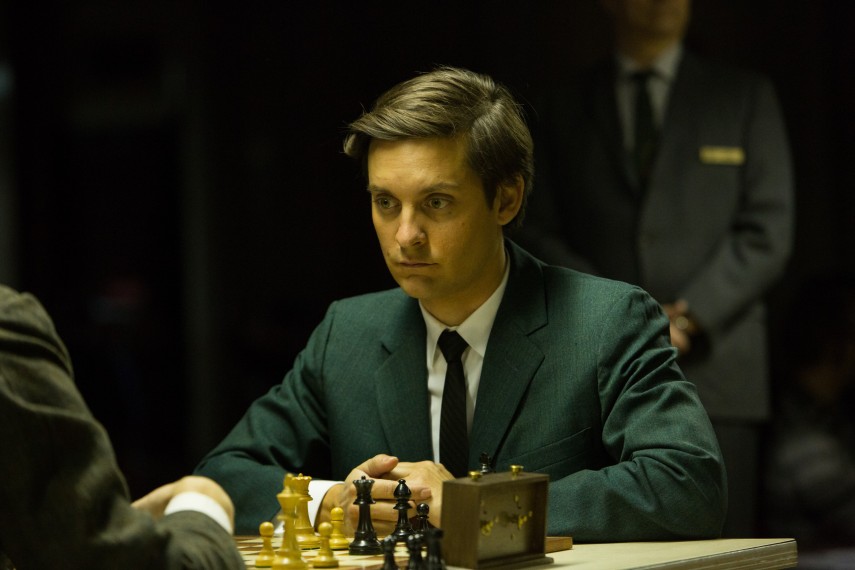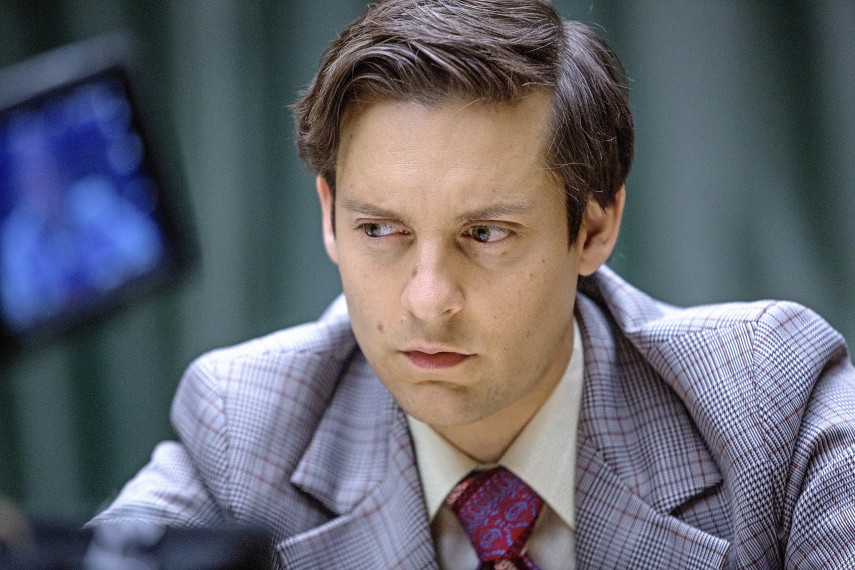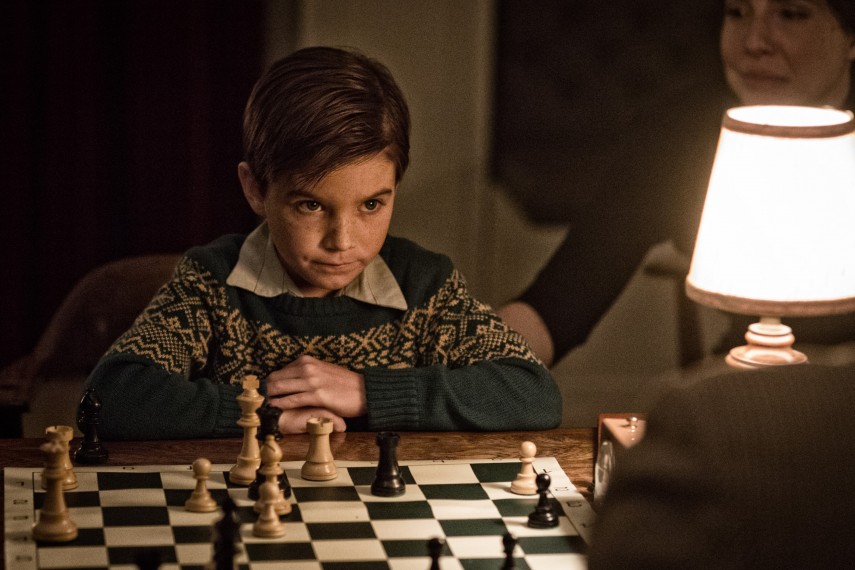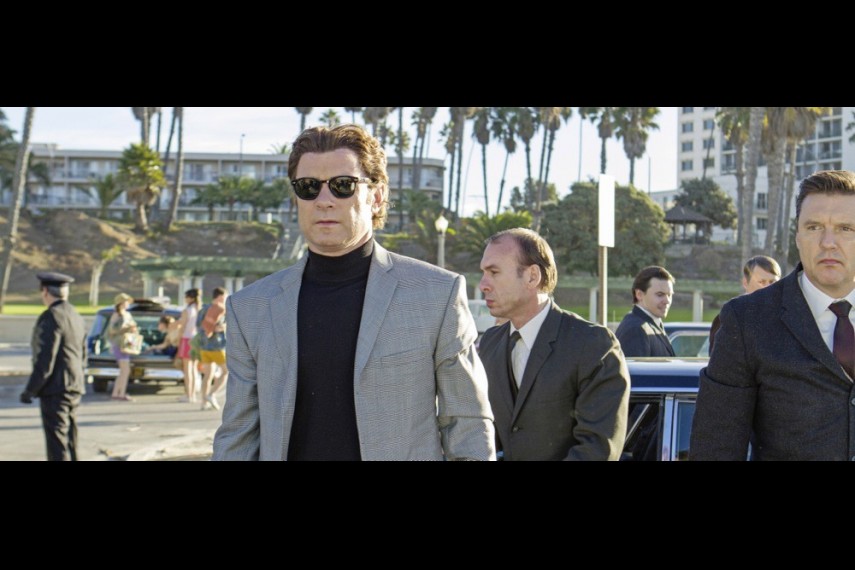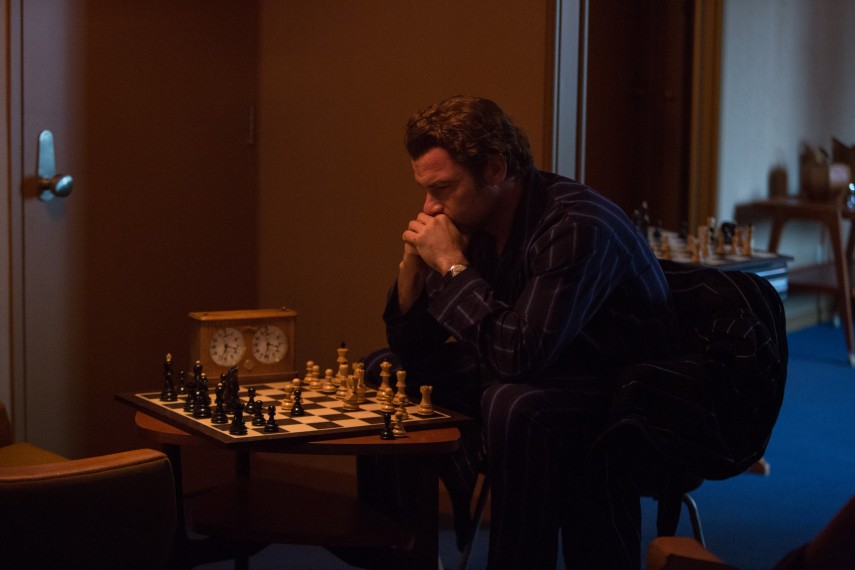 Tobey Maguire gives an angry, bristling performance as chess champ Bobby Fischer in Edward Zwick's conventionally effective biopic.
The moves are none too surprising but the psychological back-and-forth still compels attention in "Pawn Sacrifice," director Edward Zwick's conventionally well-crafted dramatization of the life of Bobby Fischer. Revisiting that astonishing moment when a world reeling from Vietnam and Watergate was held spellbound by an epic, emblematic 1972 chessmatch between Fischer and Soviet grandmaster Boris Spassky, this straightforward but focused biopic doesn't crack the mystery of the mentally troubled misanthrope who became the game's greatest player, though Tobey Maguire's angry, bristling lead performance does capture the man's outsized personality in spades. An elegant if unrevealing title and the somewhat rarefied historical material may keep broad audience exposure at bay, but an enterprising distrib could court discerning grown-up interest.
Effectively a fictionalized companion piece to Liz Garbus' 2011 documentary "Bobby Fischer Against the World," Steven Knight's screenplay is structured around an event that, rather remarkably, has never furnished a dramatic feature film before. Amid escalating Cold War tensions, the 1972 World Chess Championship in Reykjavik — dubbed "the Match of the Century" by observers — took on enormous symbolic importance, pitting the plucky, unpredictable American challenger against the indomitable Soviet powerhouse in a definitive test of superpower strength (this phenomenon, as it applied to ice hockey, was recently explored by Gabe Polsky's documentary, "Red Army").
While that 21-game match-up will occupy much of the film's latter half, Zwick and Knight spend the early going deftly moving their pieces into position, so to speak, employing two younger actors (Aiden Lovekamp, Seamus Davey-Fitzpatrick) to portray Bobby during his boyhood and teenage years in New York. During this time he immediately demonstrates a talent for chess, nurtured by his encouraging first teacher, Carmine Nigro (Conrad Pla). His brilliant intellect and passion for the game bring out a ferocious level of personal dedication and competitive instinct, which translate as hostility toward anyone he perceives as a distraction from his goal, including his neglectful single mother, Regina (Robin Weigert), whom he comes to resent for her steady stream of lovers and refusal to tell him who his biological father is.
These and many other challenging aspects of Fischer's upbringing are mostly glossed over here, and the degree to which they shaped his identity — whether his mother's own communist activism contributed to his extreme anti-Russian paranoia, for example — is never fully spelled out. The cause receives far less emphasis here the effect, and by the time Fischer (now played by Maguire) storms out of the 1962 Chess Olympiad in Varna, Bulgaria, blasting the Soviets for having allegedly colluded against him, he is a man fully formed in all his stubbornness, arrogance and eccentricity, a man who is determined to become the world's greatest player and who utterly refuses to play according to any rules except his own.
Helping to steer his chess career back on course are Paul Marshall (Michael Stuhlbarg), a patriotic lawyer who sees Fischer's potential as a symbol of American might, and William Lombardy (Peter Sarsgaard), a Catholic priest and chess grandmaster who coached him when he was younger. Together these two loyal, long-suffering supporters do what they can to ensure that the temperamental, unpredictable Fischer stays grounded and focused on the game, especially after he records his first loss to Spassky (Liev Schreiber) at the 1966 Piatigorsky Cup tournament in Santa Monica. But a rematch looms six years later in Reykjavik, where Fischer, now a beloved figure in American culture who has graced magazine covers and been courted by Mike Wallace, becomes determined to win the world championship.
Even attentive viewers won't learn too much about how to play chess like a champ in "Pawn Sacrifice," though Zwick does what he can to render an inherently uncinematic activity onscreen in as stimulating a manner as possible, focusing compulsively on shots of the players clicking their game clocks back and forth, the pieces shifting forward one move at a time (sometimes in dramatic black-and-white inserts). Scenes of Fischer and Lombardy running through practice games in their heads, rapidly reciting board moves at each other, convey merely a hint of the mental agility required to understand the game in all its permutations and possibilities, let alone to master it. Absent the ability to really get the audience's heads in the game, the film succeeds better at presenting chess as a subtle metaphor for the psychological warfare being waged behind the scenes.
Both Lombardy and Marshall absorb and apply the real-life lessons of the game to some degree, realizing that it takes careful maneuvering to control Fischer and figuratively keep him in check. As shown during his long Reykjavik rematch with Spassky, Fischer makes all manner of increasingly outrageous demands — for instance, that the games be played in a small rec room in the basement, away from the noise of the cameras and the distractions of the audience. He also becomes more twitchy and irrational than ever, spouting anti-Semitic conspiracy theories (ironic, considering Fischer was Jewish himself) and tearing his room and telephone apart in search of the bugging devices he's convinced the Soviets have placed there. Is he a lunatic? Or are his actions a brilliant means of unsettling his opponent, of putting him on the defensive and forcing him to react, which Fischer well knows is the only way to beat the Russians and their impeccable chess training?
In any event, the sheer accrual of madly unpredictable chess strategies (which ultimately drove Fischer's victory) and oddball, did-that-really-happen details — as when Spassky, seemingly absorbing some of his opponent's paranoia, suspects that his swivel chair has been tampered with — commands a procedural fascination that propels interest through the climactic faceoff. The film wraps up with an expectedly neat summation of Bobby Fischer's unmatched legacy in the chess world as well as his sad, mysterious decline in the years leading up to his death in 2008, accompanied by old video clips of the real Fischer that match the deliberately grainy, old-fashioned faux-'60s and '70s footage inserted into the film throughout.
Production designer Isabelle Guay's period re-creations are subtle and hemmed-in, befitting a picture where most of the action unfolds in fairly nondescript rooms; apart from some moody shots of the Icelandic coast, d.p. Bradford Young's lensing mostly follows suit. The focus here is squarely on the performances, chiefly Maguire's ravaged, belligerent, frequently off-putting embodiment of a man whose undeniable brilliance seems to have swallowed up his every social grace and kindly impulse. Providing a crucial element of dramatic modulation and comic relief, Sarsgaard and Stuhlbarg give warm, wry performances as Fischer's devoted if frequently exasperated supporting duo. In a film that doesn't pretend to strive for balance between the American and Soviet sides, Schreiber's presence nonetheless brings a crucial measure of sympathy and humanity to the role of a formidable chess player who, by the closing reels, simply doesn't know what hit him.
Deutsche Film- und Medienbewertung, 5/19/2015
"Pawn Sacrifice" director Edward Zwick on 'pre-punk hero' Bobby Fischer
People have been searching for the real Bobby Fischer for more than 40 years. The arrogant and enigmatic late chess grandmaster, who was the Mozart of international competition as a teenage champion in the 1950s, was thrust into the zero-sum political rivalry between the United States and the Soviet Union at the height of the cold war. But his personality was actually more Beethoven—genius tinged with madness—and when he challenged world champion Boris Spassky in Iceland in 1972, he was pushed to his limits as the world stopped to see which man, and which political system, was superior.
In Pawn Sacrifice, Tobey Maguire plays Fischer, a beautiful mind whose obsessive understanding of the game of chess raises him to a prominence that the rest of his psyche isn't quite prepared to deal with. Liev Schreiber plays Spassky, the cool Russian rock-star champion who defended his title in an historic world championship that was covered on the front pages of major newspapers and followed with great interest in corridors of power in Washington and Moscow.
Director Edward Zwick remembers Fischer's years as a heroic rebel, as well as his sad and ugly decline. The film, which debuted at the Toronto Film Festival and opens in theaters on Sept.18, focuses on Fischer's singular drive to be the greatest and the cost of his great talent. The revered producer/director shared the film's exclusive poster and chatted to EW about Fischer, Maguire's performance, and the failure of Hollywood to produce films that help younger audiences understand the wider world. 
Entertainment Weekly: Are you or were you a chess player? 
Ed Zwick: Like everyone, I was a kid who played chess when I was young. And I am admittedly old enough to have been around during the fervor of the match in Reykjavik and the rise of Bobby Fischer, so those two things conspired to pique my interest. 
Well, talk about that. Because I think it might be hard for younger people today to imagine just how big the chess summit was in 1972, when the cold war was intense and a chess match was front-page news. What do you remember most? 
Those of my generation who grew up in the midst of the cold war had a very, very strong awareness and very much were sort of influenced by the demonization of the Soviet Union, whether that was through the Cuban Missile Crisis or duck-and-cover, or any of those things that so effected us then. But the other thing you have to realize, the idea of international celebrity was relatively new. The Beatles had come to America a couple years before this, and [Fischer] was one of the first, I would call him a pre-punk hero. He was in some ways unruly and he was unpredictable. He was anti-authoritarian in certain ways. He was also kind of stylish and great looking and homegrown, so all of these conspired to give him this cache. We were all aware of him.
Bobby Fischer was all those things, but pardon my language, but he was also an a–hole. 
Absolutely. That's the pre-punk thing. There's a certain amount of a–holery that came to be a very important part of his character in popular culture.
Of course, that's nothing new in terms of cinema. Some of the greatest movies ever made are about extremely unlikable people. But did you wrestle with the challenge of making Bobby Fischer your protagonist? 
Obviously, you could evoke Raging Bull, which is an amazing study of someone who you would be hard-pressed to call sympathetic. But listen, more important than being sympathetic is that Fischer would be knowable. And that, in some way, was even harder, because he was introspective, he was self-contained in this way. To me, one of the most moving parts of the story is how isolated he was and how alienated he was, even in the midst of this international spotlight. The question was, Could we understand him? That would certainly open the door for a compassionate perspective. 
It certainly helps to have Tobey in the role. People like TobeyMaguire and feel like they know him. What made him a good match for this character? 
He has a very particular intensity about him. He has the necessary intelligence and the focus. He's a research fanatic and had come to know the games and all of the things that [Fischer] had said and people who had known him. So in a way that a great actor can internalize something – something ineffable even – no matter how recognizable they are, after five or 10 minutes, you are watching a story about someone else. You are watching this character rather than watching the movie star. And they are the best kind of movie stars, those who can somehow reimagine themselves before your very eyes. 
Steven Knight, who also penned Locke, wrote the script, and clearly he has a gift for untraditional storytelling. How did the two of you make chess cinematic?
I'm never going to be able to teach an audience the nuances of chess, but I think audiences are very much attuned to the struggle between two athletes, as indeed these two chess players are. There's a line in the movie, when he says, "It's the domination of one man's will over another's." And that is always dramatic, the idea that it's as much about mental toughness as it is about memorization and acuity. What I was trying to do, and what I think Steve does wonderfully well, is get inside their heads and really watch what is happeningemotionally. 
To me, it also works as a sports movie. This kid, comes out of nowhere, faces the champion, loses, fights his way back, and makes it to the rematch. That's a familiar trope and I think one that plays exceedingly well. I think the challenge will be to have people understand that this isn't just a movie about chess… but I guess that's where you come in. 
This was not an easy movie to get made, which I find discouraging because it has an Oscar winner behind the camera and an A-lister as its star. But that isn't enough these days unless the main character is wearing a cape, it seems. It makes me think that so many of your great movies, like Glory and Legends of the Fall andBlood Diamond, wouldn't have a chance with the studios in 2015 either. 
It's true. Listen, there are a lot of us that are struggling with this. AndI've had the privilege of making grown-up movies or movies that had complex or ambitious themes. The idea that things can be serious minded but must be somehow balkanized in the art-house ghetto is very upsetting because I think it limits not just the audience who was already going to see it, but those who might have had their tastes developed at a younger age. You know, I went back not long ago and looked at the movies when I was growing up, and there was nothing targeted to me. I watched aspirationally. I looked at movies that maybe I didn't entirely understand but which developed in me some thirst for their subjects or for their context, and that became part of how I came to understand the world. Now you have things so demographically in niches that I don't think that there's that same impulse even to sort of be ambitious in the things as a kid that you look at. But the privilege that I had was doing things that I cared about. … and I'm determined to keep doing that. And if it means having to do it on a smaller scale, then so be it. But that's the great reward, feeling passionate about your work and interested enough in the subject that you can spend two years on it with the supposition that maybe you can get people interested for two hours.

4/26/2016
Minimierung der Kampfzone
Ein Film über das legendäre Schachduell zwischen Bobby Fischer und Boris Spasski.
Nach nur vier Zügen gilt es, unter 300 Milliarden Möglichkeiten abzuwägen - wie soll man da nicht verrückt werden? Genie und Wahnsinn gehen auf dem Schachbrett eine besondere Verbindung ein, wie Edward Zwick in seinem Drama "Bauernopfer - Spiel der Könige" nach einer wahren Geschichte erzählt.
Die Hauptfigur Bobby Fischer war ein Junge aus Brooklyn, dessen besonderes Talent als Schachspieler ihn in den Siebzigerjahren in den Fokus der Propagandainteressen Amerikas rückte. In jenen Zeiten also, als sich die Fronten des Kalten Krieges auch auf das Feld des Sports verlagerten. Das ganze Land fieberte mit, als Fischer 1972 in der isländischen Hauptstadt Reykjavík gegen den russischen Schachweltmeister Boris Spasski antrat. Erstmals hatte ein Amerikaner die Chance, das langjährige sowjetische Schachmonopol zu brechen. Eine große Bürde für einen jungen Mann wie Fischer, der zudem keine ganz einfache Persönlichkeit hatte: Er litt an Größenwahn und Neurosen, oszillierte zwischen Arroganz und Versagensangst.
Wahre Geschichten über sperrige, unangepasste Helden im Kampf für ein besseres Amerika haben den Regisseur Edward Zwick immer wieder gereizt, in Filmen wie "Blood Diamond" mit Leonardo DiCaprio oder "Glory" mit Denzel Washington. Aber noch nie war einer seiner Protagonisten so derangiert, getrieben und verloren wie der legendäre Schachweltmeister Bobby Fischer, der bei Zwick von Tobey Maguire gespielt wird. Die frühen biografischen Stationen dieser Figur werden flugs abgehakt, die schwierige Kindheit mit der alleinerziehenden Mutter, die ersten Erfolge als geniales Schachkind. Dann ist der Film bald beim großen Duell zwischen Fischer und Spasski in Reykjavík und verlässt diesen Schauplatz kaum noch.
Weil das Schachspiel optisch wenig hermacht, nehmen die Spielfiguren nur eine untergeordnete Rolle ein. Stattdessen konzentriert sich Zwick auf die psychologische Kriegsführung der Kontrahenten, auf taxierende Blicke, undurchdringliche Mienen, reduzierte Gesten, die unterschwellige Nervosität verraten. Mit einer irrlichternden Kamera und rastlosen Schnitten schraubt er sich ganz unmittelbar in die Wahrnehmung seines verstörten Helden Bobby ein.
1972 war Fischer knapp dreißig, und der Schauspieler Tobey Maguire, der auch mit fast vierzig Jahren noch einen jungenhaften Charme hat, ist in Hollywoodseit Jahren die Geheimwaffe für labile Kindmänner mit überdurchschnittlichen Fähigkeiten und schwachen Nerven. Sein Bobby Fischer ist zugleich faszinierend und abstoßend, enervierend und charmant, unnachgiebig und verletzlich. Liev Schreiber setzt ihm als Spasski eine ruhige, bullige Präsenz entgegen. Ergänzt wird das Ensemble durch Michael Stuhlbarg, der die wohltemperierte Mischung aus Jovialität und Gefährlichkeit ausspielt, die er schon als "Boardwalk Empire"-Mafioso besaß, diesmal als Vertreter einer dubiosen Regierungsinstitution. Peter Sarsgaard vermittelt als Pater Lombardy eine versöhnliche Autorität, und ist zugleich dafür zuständig, ein unkundiges Publikum mit den Grundregeln des Schachs vertraut zu machen. Wenn der Pater und der Regierungsmann darum ringen, ihren schwierigen Schützling bei der Stange zu halten, dann erinnert das an kapriziöse Popstars, die von ihren Agenten oder Veranstaltern jeden Abend mühsam zum Konzertsaal dirigiert werden müssen.
In jedem Knarzen eines Stuhls und im Blitzen jeder Fotokamera wittert der paranoide Fischer eine Verschwörung, einen Angriff auf seine Konzentration. Immer überzogener werden seine Forderungen im Verlauf des Turniers, bis er schließlich erreicht, dass in einer Abstellkammer weitgehend unter Ausschluss der Öffentlichkeit gespielt wird. Wüsste man nicht, dass es mit der geistigen Gesundheit von Fischer im Anschluss an den legendären Sieg ein böses Ende nahm, dann könnte man glauben, dass er ganz gezielt die Destabilisierung eines übermächtigen Gegners betrieb. Doch den eigentlichen Kampf trug er gegen seine inneren Dämonen aus.
Neue Zürcher Zeitung, 12/24/2015
Mehr als nur ein Bauernopfer
Tobey Maguire verkörpert auf vorzügliche Weise den einstigen Schachweltmeister Bobby Fischer. Der ergreifende Film lässt aber die denkwürdige zweite Hälfte von Fischers Leben aus.
Manchmal wirken diese Geschichte und ihre Figuren so surreal, dass alles frei erfunden scheint. Ein verschrobenes Schachgenie, wie es der Weltmeister Bobby Fischer war, ist an sich nichts Erstaunliches. Aber gab es wirklich diesen Priester, der als Coach mit ihm von Turnier zu Turnier zog? Existierte dieser Anwalt, der aus dem Nichts mit Hut und Trenchcoat auftauchte und der seine Verbindungen zu Geheimdiensten und zum US-Präsidenten spielen liess? Und musste er stets neue Forderungen Fischers durchsetzen, wie etwa mehr Preisgeld oder Partien unter Ausschluss des Publikums, im Pingpong-Raum im Keller, ohne das Surren von TV-Kameras?
Ob 1972 in Reykjavik zwischen Fischer und Boris Spasski wirklich Partien um die Weltmeisterschaft im Pingpong-Raum ausgetragen wurden, sei dahingestellt. Sicher ist, dass eine Partie in einem Nebenraum ohne Zuschauer stattfinden musste. Dennoch sind viele Details in «Pawn Sacrifice» so wahr, dass sie Hollywood nicht besser hätte erfinden können. So wie auch der Kern dieser Geschichte: Ein arroganter Amerikaner will die jahrzehntelange Vormacht der sowjetischen Schachspieler brechen und Weltmeister werden, das alles mitten im Kalten Krieg.
Teils ergreifend, teils gewitzt erzählt der Regisseur Edward Zwick («Blood Diamond»), wie Fischer zum Herausforderer von Boris Spasski aufstieg und wie das Duell zum medialen Ereignis wurde, als ginge es um den Schwergewichtstitel im Boxen. Die Öffentlichkeit hatte den Kampf auf dem Brett zum Kampf der Ideologien stilisiert. West gegen Ost, Kapitalismus gegen Kommunismus. Ein Sieg im intellektuell anspruchsvollen Schach sollte auch als Beweis für die Überlegenheit eines Systems herhalten. Zuweilen in Thriller-Manier zeigt «Pawn Sacrifice» (Bauernopfer), wie Fischer und auch Spasski (Liev Schreiber) unter dieser Last litten.
Fischer aber nur als Bauernopfer und Märtyrer für seine Nation darzustellen, wäre viel zu kurz gegriffen: Der Egozentriker und Narzisst war vor allem von Eigeninteresse getrieben und opferte sich selbst. So sehr gab er sich dem Spiel hin, dass er sich in diesem Universum aus Feldern, Figuren und Kombinationen zunehmend verlor. Tobey Maguire gelingt es vorzüglich, diesen Hochbegabten zu verkörpern, der geistreich sein kann, aber viel öfter leidet, mal zerstreut, mal aufbrausend, mal vollkommen aufgelöst ist und nur vorübergehend den Kampf gegen sich selbst gewinnt. Nach Anlaufschwierigkeiten schafft er es, sich auf die Partie zu fokussieren, und besiegt Spasski dank teilweise brillanten Zügen.
Ein Mangel ist allerdings, dass die Produktion in Manier des Sportfilms auf die Jubelszenen zusteuert und zu wenig ausleuchtet, was mit dem inzwischen verstorbenen «Helden» danach geschah. Fischers ausgeprägter Antisemitismus kommt im Film marginal vor und wird als Teil seiner paranoiden Störung abgetan. Es wird zudem suggeriert, dass es dabei auch um das schwierige Verhältnis zu seiner jüdischen Mutter gehen müsse. Dass Fischer im Alter immer stärker dadurch auffiel und den Attentaten des 11. September applaudierte, bleibt unerwähnt. Da mag Hollywood dann doch mehr die Fiktion als die Realität.
Interview with Tobey Maguire
Movie Data
o
Other titles
Bauernopfer - Spiel der Könige
DE
Original language
English
Cast & Crew
o
Tobey Maguire
Bobby Fischer
Peter Sarsgaard
Father Bill Lombardy
Bonus
o
Interview with Tobey Maguire
Interview with directori Edward Zwick
Interview with Maguire and Zwick
Review Süddeutsche Zeitung
Review Neue Zürcher Zeitung