Jagten
Thomas Vinterberg, Denmark, 2012
o
Lucas has just got divorced and is in the process of rearranging his life. Everything seems to be going well: his teenage son Marcus wants to live with him again, and in pretty Nadja he finds a new girlfriend. He also enjoys his new job as a kindergarten teacher and gets on well with the children. But one day, a five-year-old girl tells him that Lucas had shown his penis to her. Although it is obvious that the girl is fantasizing, from that moment on nothing is as it was.

The Dane Thomas Vinterberg has been a fixed star of international auteur cinema since his brilliant debut Festen in 1998 and has played some part in the phenomenal success of arthouse films and series from his country, which speaks a language as exotic as Swiss German and counts less than six million inhabitants. But with Jagten the film critics found it rather difficult: they argued it pushed open doors and, they had a hard time understanding a protagonist not defending himself more decisively against that story of evident lies - especially since Vinterberg didn't cast a softie or disguised paedophile for the hero's part, but Mads Mikkelsen, a guy who is not knocked down so quickly. But this is precisely the point of this strong film, which almost inevitably goes against the grain. However absurd the accusation may be, it does its work and gradually poisons all of the protagonist's relationships. Jagten is a film about the uncanny power of defamation under the tightened conditions of political correctness. It shows how a lie remains stuck because the denial can always be interpreted as a sign of a bad conscience. It deals with the diabolical logic of the false accusation, which comes in handy to envyers and copycats. Unpleasant, yes, and quite apt.
Andreas Furler

Vinterberg wurde 1998 berühmt mit der Missbrauchsgeschichte «Festen». «Jagten» ist die Antithese dazu. Das Drehbuch krankt an seiner Hauruck-Dramaturgie: Der Mann wehrt sich nicht, und keine Sekunde zweifeln die selbstgerechten Dorfbewohner am Wahrheitsgehalt der Anschuldigung. Die Rolle dieses Wehrlosen von einem Alphatier wie Mikkelsen spielen zu lassen, ist hingegen ein grossartiger Einfall. Er macht den Film sehenswert. In Cannes erhielt Mikkelsen den Preis für den besten Darsteller.
Thomas Bodmer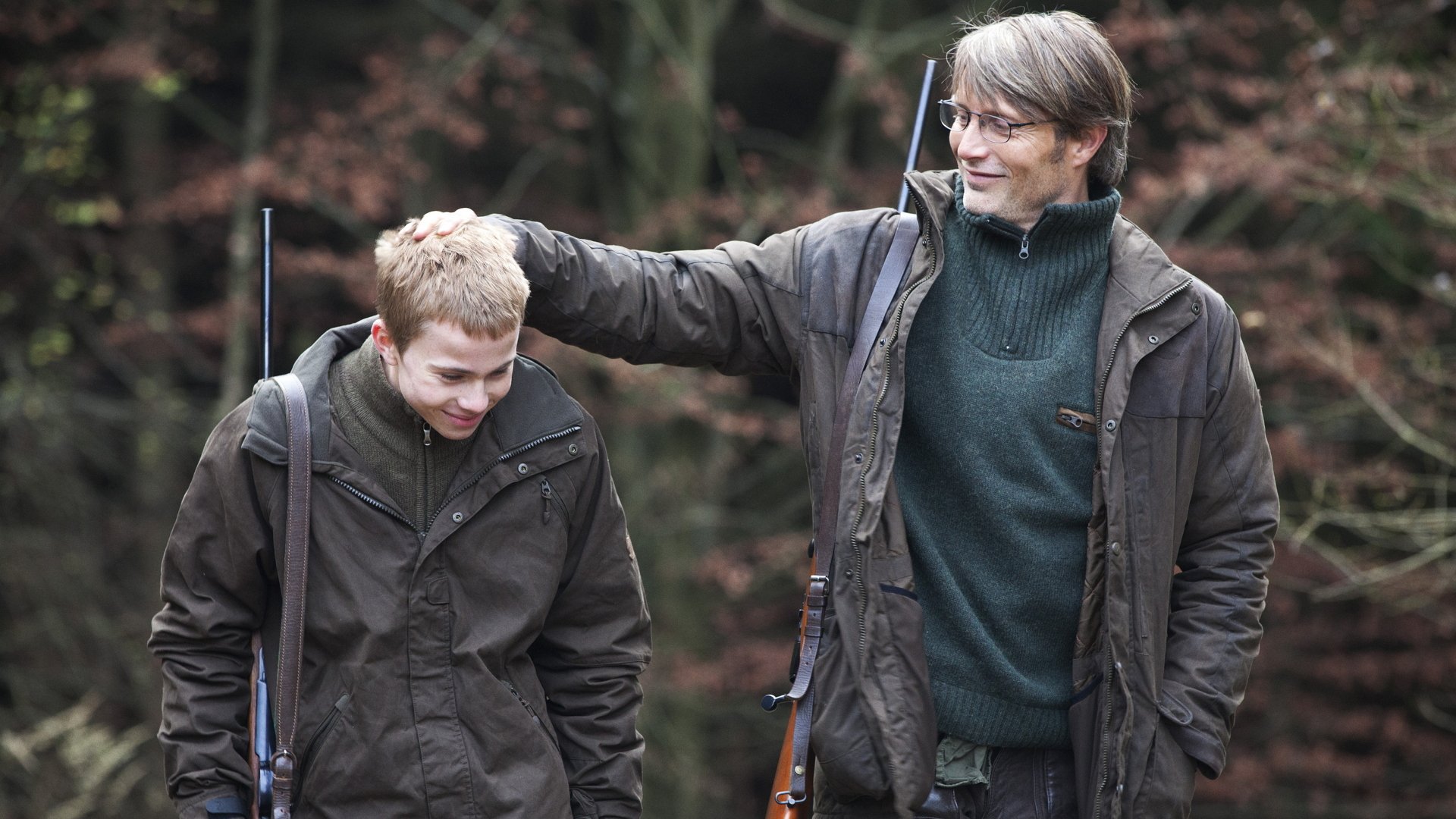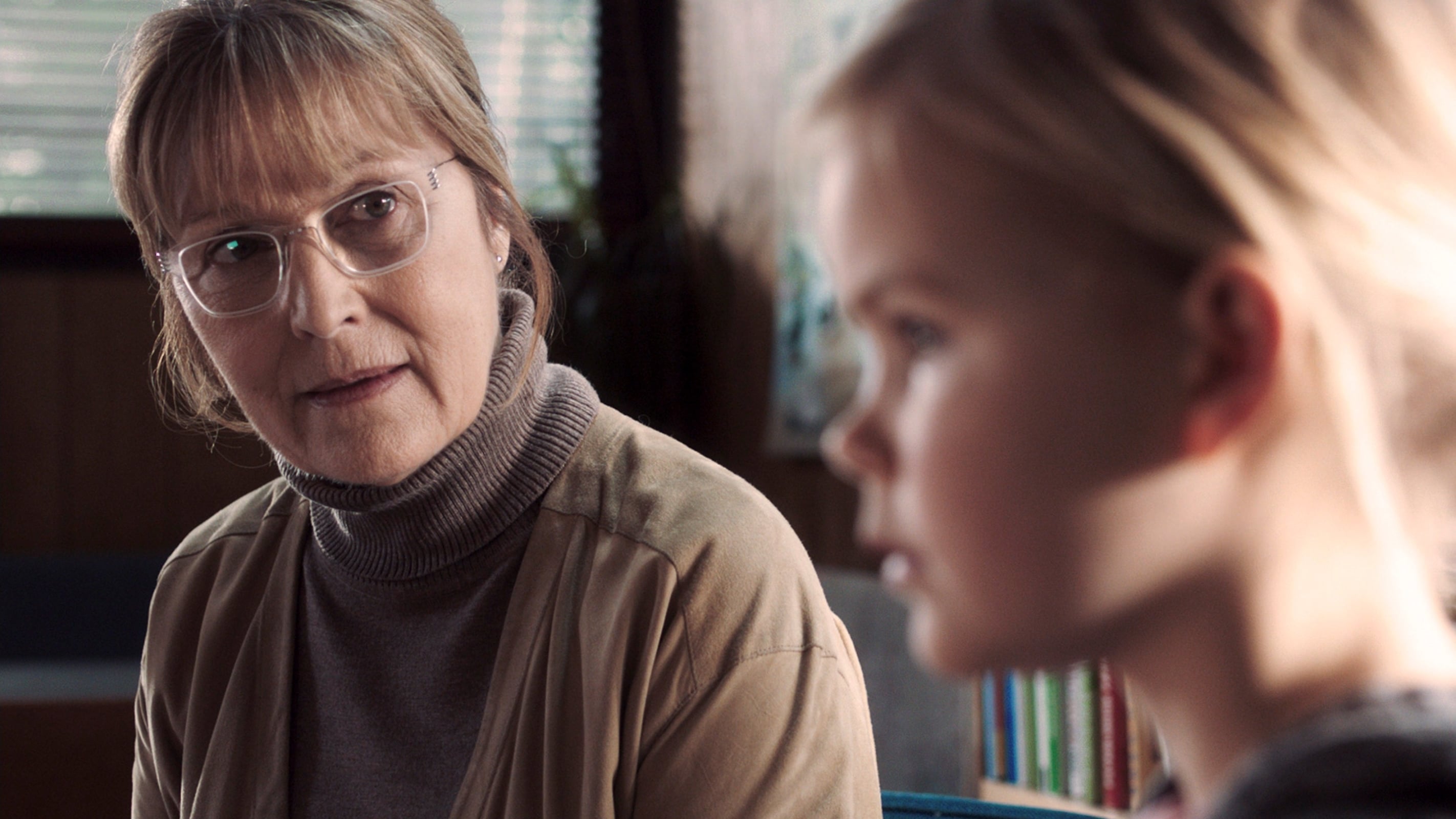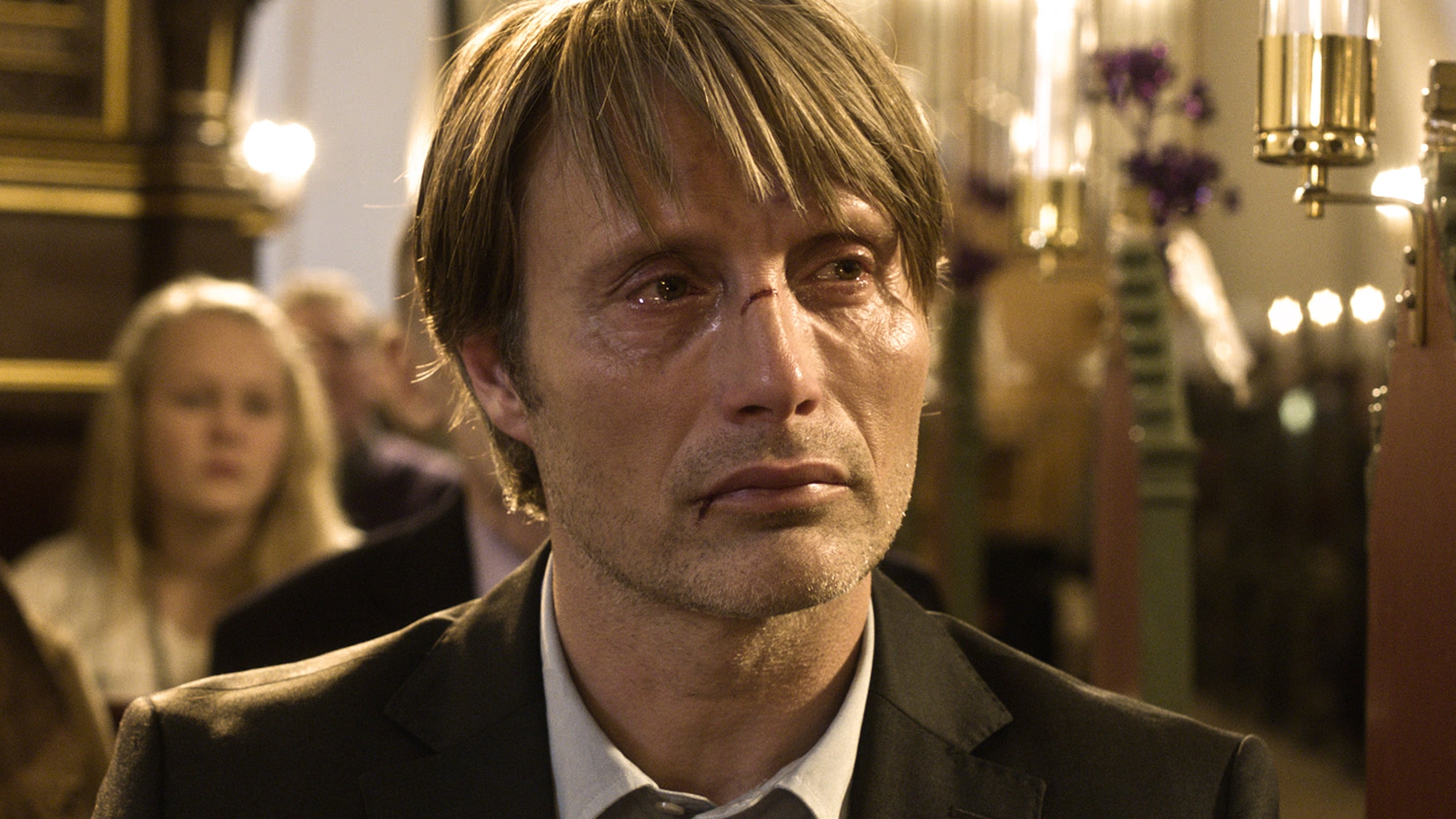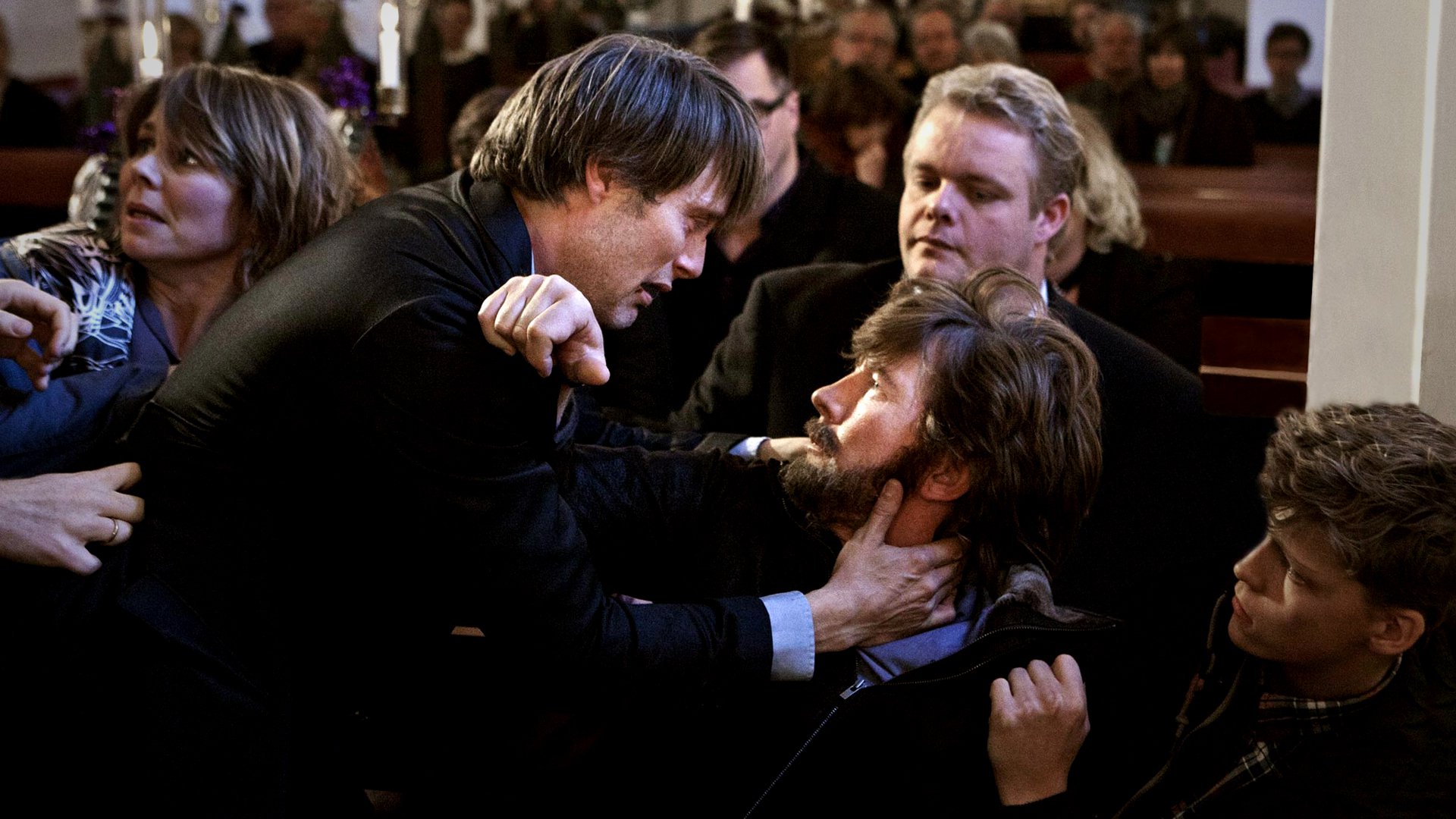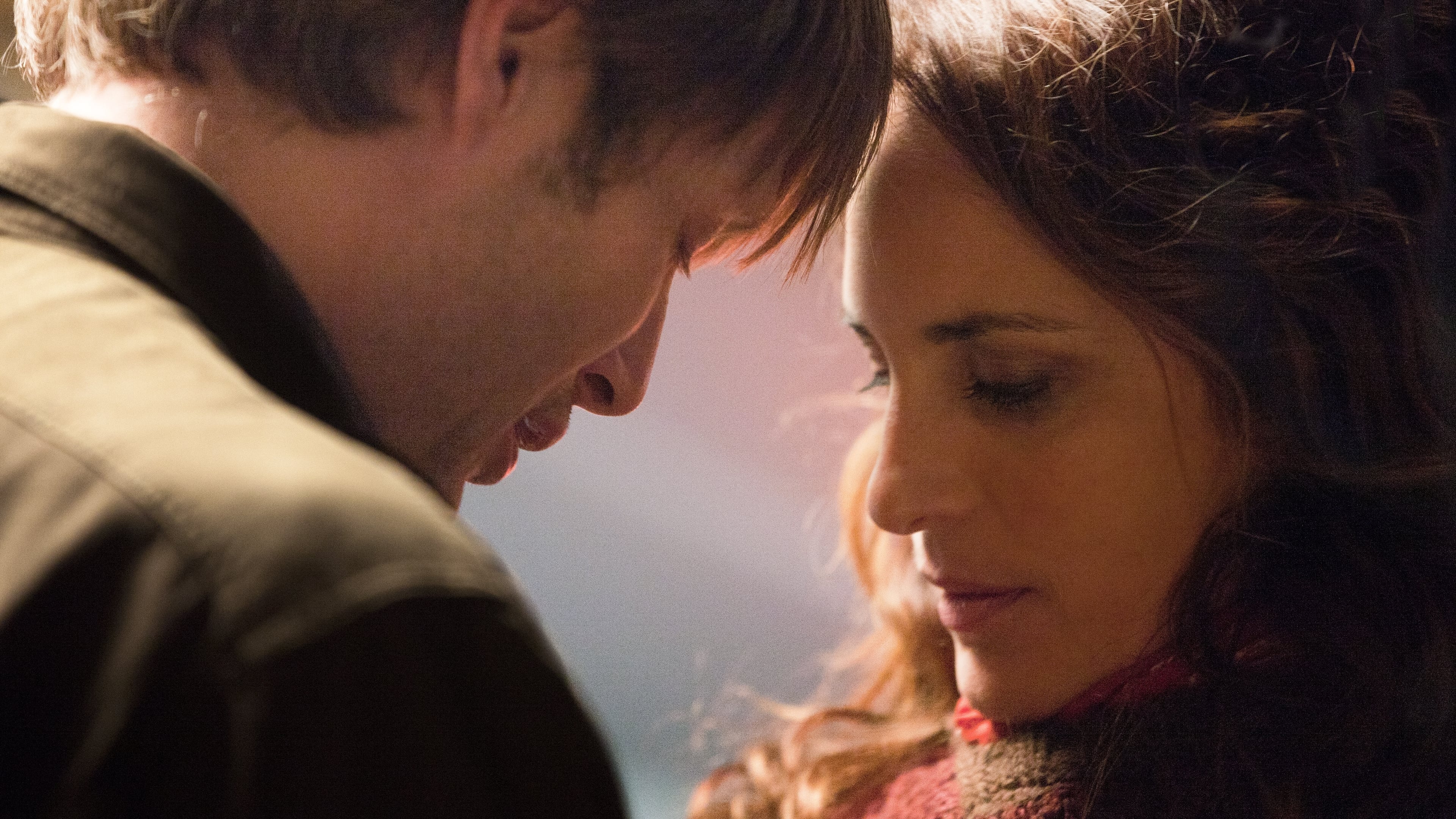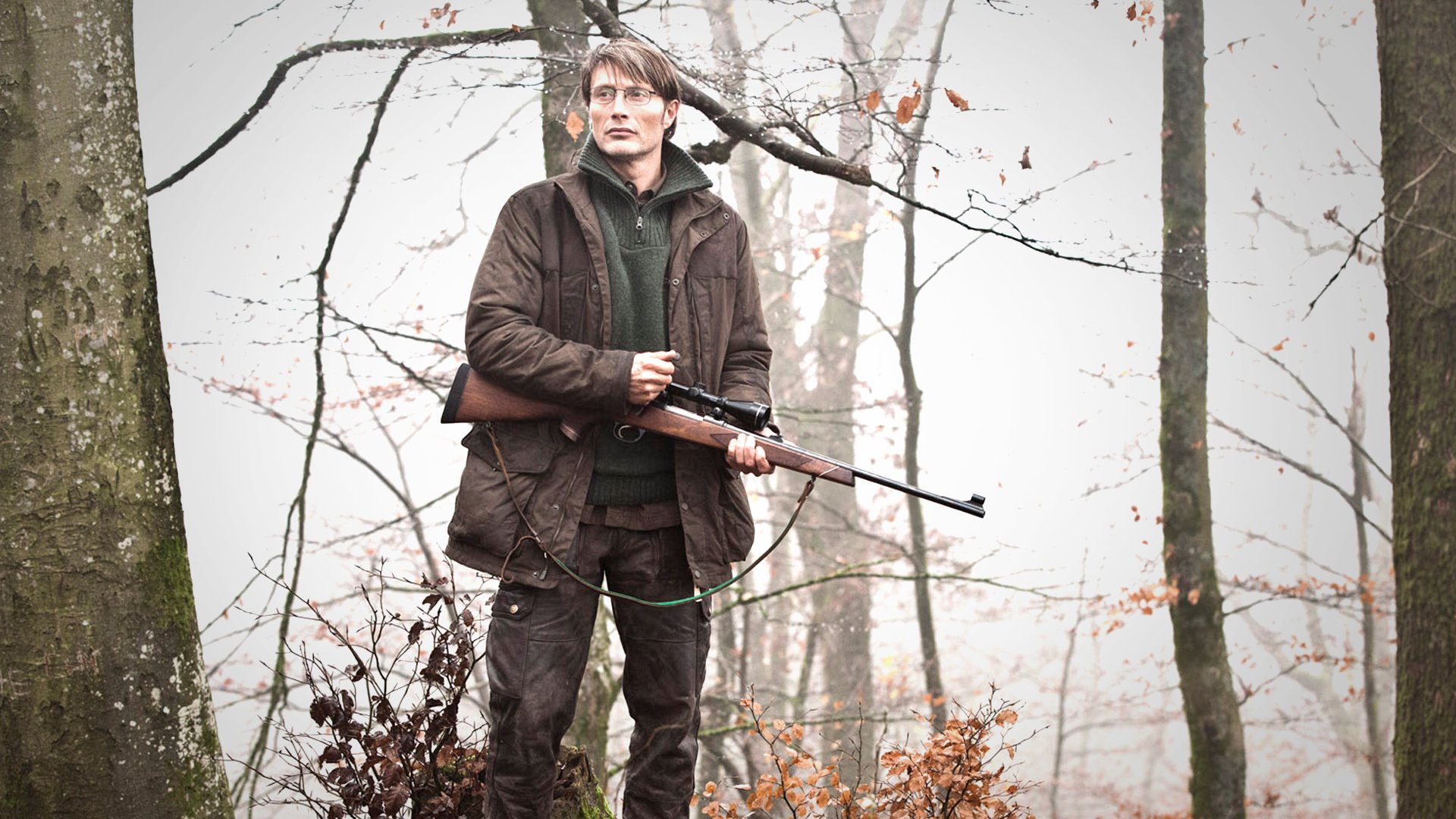 Festen director Thomas Vinterberg storms back to form with this drama about a teacher wrongfully accused of child abuse.
As the nation recovers from its Newsnight affair, there could hardly be a more relevant movie than this new one from 43-year-old Danish director Thomas Vinterberg about a wrongful accusation of child abuse. Vinterberg has created a drama-thriller with the atmospheric grip of a horror film; there are echoes of Arthur Miller's The Crucible, Sam Peckinpah's Straw Dogs and Lars von Trier's Dogville, but the film has its own exemplary power, maturity and intelligence. To see The Hunt is to be reminded of our own recent history: we watched as a flagship news programme suffered a spasm of misjudgment that could have been avoided with a Google image search, and as a TV interviewer solemnly handed to the prime minister his piece of paper, apparently under the impression that lots of people on Twitter naming the same man was compelling evidence, perhaps unaware that everyone in a lynch mob is in favour of lynching the same person. But there is a dissimilarity between real life and this film: real children were really abused.
Vinterberg is the director responsible for Festen, the famous film about abuse and family dysfunction, with which he made his sensational breakthrough in 1998, and raised the banner for the lo-fi Dogme95 movement. Since that initial blaze of talent, his career is considered to have gone into the doldrums, although his extravagant fantasy It's All About Love (2003) had ambition and brio, and I admired his last feature, Submarino (2010), which did not find a UK distributor. Now Vinterberg has come storming back with a gripping and moving work, co-written with Tobias Lindholm and directed with clarity and craftsmanship. It has also been tremendously photographed by Charlotte Bruus Christensen. Mads Mikkelsen is outstanding in the leading role of Lucas, suggesting suppressed agony with the minutest gestures, and there is a performance of eerie potency and poignancy from Annika Wedderkopp, playing Klara, the little girl in the eye of the storm.
Lucas is a recently divorced teacher in a small town in Denmark. He is withdrawn and unsettled: custody of his son has been given to his ex-wife, and a school closure has meant he has lost his job, and been forced to take a lowlier position at a kindergarten nearby. He is a popular member of this close-knit community, whose hard-drinking menfolk go in for boisterous outdoor pursuits and knockabout local traditions, including an annual deer hunt, whose obvious metaphorical possibilities Vinterberg handles with cool confidence.
One of Lucas's pupils is Klara, the lonely daughter of Lucas's closest friends, Theo (Thomas Bo Larsen) and Agnes (Anne Louise Hassing). While they yell at each other, neglected Klara comes to rely on kindlyLucas walking her to kindergarten and letting her play with his dog. One morning, there is an incident with Klara's yobbish older brother and his mate, which feeds into Klara's muddled need to show her affection for Lucas. He rebukes her, and through over-imagination, hurt feelings and spite, Klara concocts an accusation she forgets about almost the next moment, but which spreads and metastasises in the world of grownup bureaucracy.
Vinterberg brilliantly and unforgivingly plays on two of the most important aspects of this kind of accusation: each person in authority must cover themselves and prove they play no part in any conspiracy of silence, and that they are not ignoring the testimony of the vulnerable. These impeccable considerations work against an innocent person. Importantly, Vinterberg does not suggest any kind of ambiguity. There is no doubt Lucas is innocent: and yet we see how rational people might believe the opposite, and how they reach a no-turning-back moment of group hysteria in which the accused person becomes taboo, an unclean microbe to be expelled. Little Klara is at fault, yet utterly innocent, a terrifyingly combustible combination. The single moment of bad faith created by Vinterberg occurs when the headteacher, Grethe (Susse Wold), at a crucial early stage, overhears Lucas in the staff kitchen flirting with a teacher, Nadja (Alexandra Rapaport) – crucially, an outsider – and this appears to tip the scales against him. Vinterberg could even be suggesting, fleetingly, that the only adults guilty of abuse here are parents who allow their children access to internet porn. But these things are unclear.
It is arguably a flaw in the film's realism that Lucas does not engage a lawyer, (although the father of a friend is supposed to be "helping" him), and the procedural aspects are sketchily drawn. Yet for me it is believable that someone in this situation would be too stunned to think of a lawyer, or think that engaging one would be an admission of guilt – and more to the point, an admission of reality, an admission that the nightmare is actually happening. Vinterberg contrives toe-curling, nail-biting setpieces of mass hostility and panic at the supermarket and church, and makes them viscerally convincing and involving. The final encounter of Lucas and Klara can only be watched through your fingers. There is no really evil individual here, and yet it is a portrait of pure evil.

1/29/2013
Ein schöner Waschlappen
Mads Mikkelsen spielt einen Kindergärtner, der des Kindsmissbrauchs beschuldigt wird.
Stellen Sie sich vor, ein kleines Mädchen deutet an, von Ihnen sexuell missbraucht worden zu sein. Und obschon Sie dem Kind nicht das Geringste angetan haben, halten Ihre besten Freunde Sie plötzlich für einen Kinderschänder.
Genau dies widerfährt Lucas, der Hauptfigur von «Jagten», dem neuen Werk des dänischen Regisseurs Thomas Vinterberg. Dieser wurde 1998 schlagartig berühmt mit «Festen», einem Film über ein Familienfest, in dessen Verlauf sich herausstellt, dass der gefeierte Patriarch des Missbrauchs schuldig ist.
1999 machte ein Kinderpsychologe Vinterberg darauf aufmerksam, dass nicht nur Kinder Opfer sein können, sondern auch fälschlicherweise beschuldigte Erwachsene. Nach langem Gären hat Vinterberg jetzt die Antithese zu «Festen» gedreht: Lucas, um die vierzig, war Lehrer, doch seit seiner Scheidung arbeitet er in einem Kindergarten und leidet darunter, dass er seinen Sohn nur alle zwei Wochen sehen darf.
Besonders nett ist er zu Klara, der Tochter seines besten Freundes, der sich oft mit seiner Frau streitet, was die Kleine sehr verstört. Dies wird dadurch noch gesteigert, dass ein Junge Klara Pornobilder zeigt. Um Lucas zu beweisen, wie gern sie ihn hat, steckt sie ihm ein Geschenk zu und küsst ihn auf den Mund. Als Lucas ihr erklärt, dass das keine gute Idee sei, fühlt sie sich abgewiesen und erzählt der Kindergartenleiterin eine Lügengeschichte über Lucas.
Das Drehbuch von «Jagten» krankt an seiner Hauruck-Dramaturgie: Warum reagiert Lucas auf den Vorwurf des Kindsmissbrauchs nur mit dem Wort «Scheisse», statt die Sache richtigzustellen? Und warum zweifeln Klaras Vater und alle anderen Dorfbewohner keine Sekunde daran, dass die Kleine die Wahrheit sagt, und beginnen gleich eine Hexenjagd gegen Lucas?
Grossartig war hingegen Vinterbergs Einfall, Lucas mit Mads Mikkelsen zu besetzen. Der ehemalige Tänzer wurde wiederholt zum «sexiest man alive» gekürt und verkörperte den Bösewicht im Bond-Film «Casino Royale». In «Jagten» dagegen spielt er einen Mann, der sich von der Selbstgerechtigkeit seiner Mitmenschen völlig fertigmachen lässt. Das baut in uns Zuschauern eine Spannung auf, die kaum auszuhalten ist. Und die macht «Jagten» sehenswert.

3/22/2013
Dänen schlagen sich die Köpfe ein
Kinder lügen eben doch: In Thomas Vinterbergs Drama "Die Jagd" wird eine Missbrauchsaffäre zum Spiegel, wie man in der dänischen Provinz Konflikte ausagiert.
Kinder lügen nicht. Mit dieser Aussage lässt eine ältere Lehrerin namens Grethe das Pendel zuungunsten von Lucas ausschwingen. Lucas ist ein Betreuer in einem dänischen Kindergarten in einer kleinen Kommune mit vielen provinziellen Eigenheiten. Die fünfjährige Klara hat ein besonderes Vertrauensverhältnis zu Lucas gefasst, der gerade die Trennung von seiner Frau verarbeitet und einen Sorgerechtsstreit um seinen Teenager-Sohn Marcus führt. Und ausgerechnet diese Klara sagt nun etwas, das man so verstehen könnte, als hätte Lucas sich ihr sexuell genähert.
Thomas Vinterberg zeigt in seinem Film "Die Jagd" auch, was der eigentliche Grund für diese ambivalente Botschaft ist. Klara hat auf dem iPad ihres Bruders eine pornographische Szene gesehen, nur ganz kurz, gerade so, dass es ihr Bewusstsein beschäftigen musste. Und so beginnt ein Drama, das Vinterberg mit archaischer Wucht beinahe bis an den Punkt extremen Wahns erzählt. Und im Zentrum dieses Wahns steht diese Aussage: "Kinder lügen nicht", bei der schon Freud eine Weile brauchte, bis er sie als irreführend durchschaute.
Mit "der Jagd" knüpft Vinterberg an seine alte Form an
Vor fünfzehn Jahren hat Vinterberg mit "Das Fest" einen der größten Arthaus-Erfolge aller Zeiten geschaffen, danach hat er sich lange schwergetan, daran anzuknüpfen. Mit "Die Jagd" tut er dies nun in mehrfacher Hinsicht sehr direkt: Dort stand ein patriarchalischer Peiniger im Mittelpunkt, hier kehrt sich die Sache um. Es ist die Gemeinschaft, die mit ihren Übergriffen viel zu weit geht. Vinterberg beschreibt einen modernen Fall von Massenhysterie, wobei niemand wirklich hysterisch zu sein hat. Es reicht, sich seiner selbst ein bisschen zu sicher zu fühlen.
So überhört die Mutter von Klara beinahe willentlich das Eindeutige, als Klara ihre Aussage vorsichtig revidiert. Nun ist das eine Sache der Philisterei, und Vinterberg holt dabei auch zu einer großen Sozialsatire aus, die nicht immer so subtil ist wie der zentrale Konflikt in "Die Jagd". Es ist natürlich ausgerechnet der Metzger, der Lucas mit brutaler Gewalt begegnet. Vinterberg nimmt besonders zwei geschlechterspezifische Kulturen aufs Korn: die plumpe Rechtschaffenheit der Männer, die ihre Gewehre von Generation zu Generation vererben und die Rituale der Gemeinschaftlichkeit nicht ohne das aggressive Moment des Jagens zu kennen scheinen. Und die Missgunst der Frauen gegenüber Lucas, die beinahe wie ein Symptom der unerfreulichen Beziehungen wirkt, die viele dieser Ehepaare führen.
Lukas ist ein viriler Softie
Lucas (Mads Mikkelsen) gerät in die Mitte dieser Konfliktlage, weil er auch als Typ dazwischen steht: ein viriler Softie, der ein weniger einseitiges Geschlechterverhältnis andeutet und dessentwegen Gefahr läuft, zum Sündenbock zu werden. Dass er ausgerechnet mit einer hübschen Migrantin, die als Reinigungskraft arbeitet, eine Beziehung beginnt, deutet auch in das Zentrum von Vinterbergs Erzählung: Er arbeitet sich an einem dänischen Traditionalismus ab, in dem alles so sein muss, dass man vor allem im Wald bestehen kann.
Es ist Theo (Thomas Bo Larsen), der beste Freund von Lucas und zugleich der Vater von Klara, der hinter seiner vierschrötigen Art seine Sensibilität entdecken muss. Er muss sich im Grunde auch über die Eskalationsmechanik des Drehbuchs hinwegsetzen, denn Vinterberg und sein Koautor Tobias Lindholm lassen wirklich nichts aus, um immer neue Konfrontations- und Gewaltexzesse aus der Geschichte herauszupressen, inklusive eines (vorläufigen) Showdowns zu "Es ist ein Ros' entsprungen" bei dem Fest, das in Dänemark "Juleaften" heißt, also auch noch auf die altertümlichen Traditionen verweist, die auf dem Grund dieses sozialen Zusammenhangs liegen.
So wird "Die Jagd" zu einem sehr interessanten Fall von Nationalkino. Die Missbrauchsaffäre erscheint plötzlich wie ein Vorwand dafür, von jenen Dänen zu erzählen, die hier eine große Verunsicherung gewaltsam ausagieren, ganz so, als müssten sie sich einmal gründlich erschöpfen, bis sie mit eingeschlagenen Nasen wieder zu sozialen Ritualen in der Lage sind.
Interview with Mads Mikkelsen and Thomas Vinterberg
A conversation between Thomas Vinterberg and David Bowie
Movie Data
o
Important Awards
Cannes 2012: Best actor (Mads Mikkelsen) / European Film Awards 2012: Best Screenplay
Bonus
o
Interview with Mads Mikkelsen and Thomas Vinterberg
A conversation between Thomas Vinterberg and David Bowie
Review Frankfurter Allgemeine Zeitung