Elvis & Nixon
Liza Johnson, USA, 2016
o
Elvis Presley wants to be promoted to drug investigator by President Richard Nixon in order to take action against leftists, hippies and competitors like the Beatles. He doesn't see the fact that he himself is dependent on medication as a contradiction. Shortly before Christmas 1970 he flies to Washington and hands over a handwritten letter of application to the surprised doorkeepers of the White House.

1970 besucht Elvis Presley Präsident Richard Nixon im Weissen Haus, um zum Undercover-Drogenfahnder befördert zu werden. Ausgehend von einem realen Foto im Oval Office, zeichnet der Film den Ablauf dieser absurden Begegnung nach. Die Vorgeschichte ist dabei nebensächlich, das Treffen ist der Höhepunkt des Films. Der in Ungnade gefallene Kevin Spacey spielt den verstockten Nixon, Elvis wird vom grimmigen Michael Shannon verkörpert. Die zwei Schwergewichte liefern sich schlagfertig das Match, zu dem es kommen muss, wenn sich zwei für unantastbar halten. Es ist die filmische Essenz einer kuriosen historischen Fussnote, die eigentlich erzählerisch wenig hergibt.
Moritz Hagen

Zwischen den ungleichen Stars aus Politik und Pop kam es im Winter 1970 zu einer Begegnung, die Indie-Regisseurin Liza Johnson zwischen beissender Politsatire und funkelnder Celebrity-Farce raffiniert weiterspinnt. Kevin Spacey reichert seinen fiktiven House of Cards-Präsidenten mit ein paar ziemlich guten Nixon-Manierismen an und Michael Shannon profitiert davon, dass er äußerlich keinerlei Ähnlichkeiten mit dem King hat. Es reicht völlig, die staunende Schockstarre in den Gesichtern der Menschen zu sehen, vor denen er unvermittelt auftaucht.
Anke Sterneborg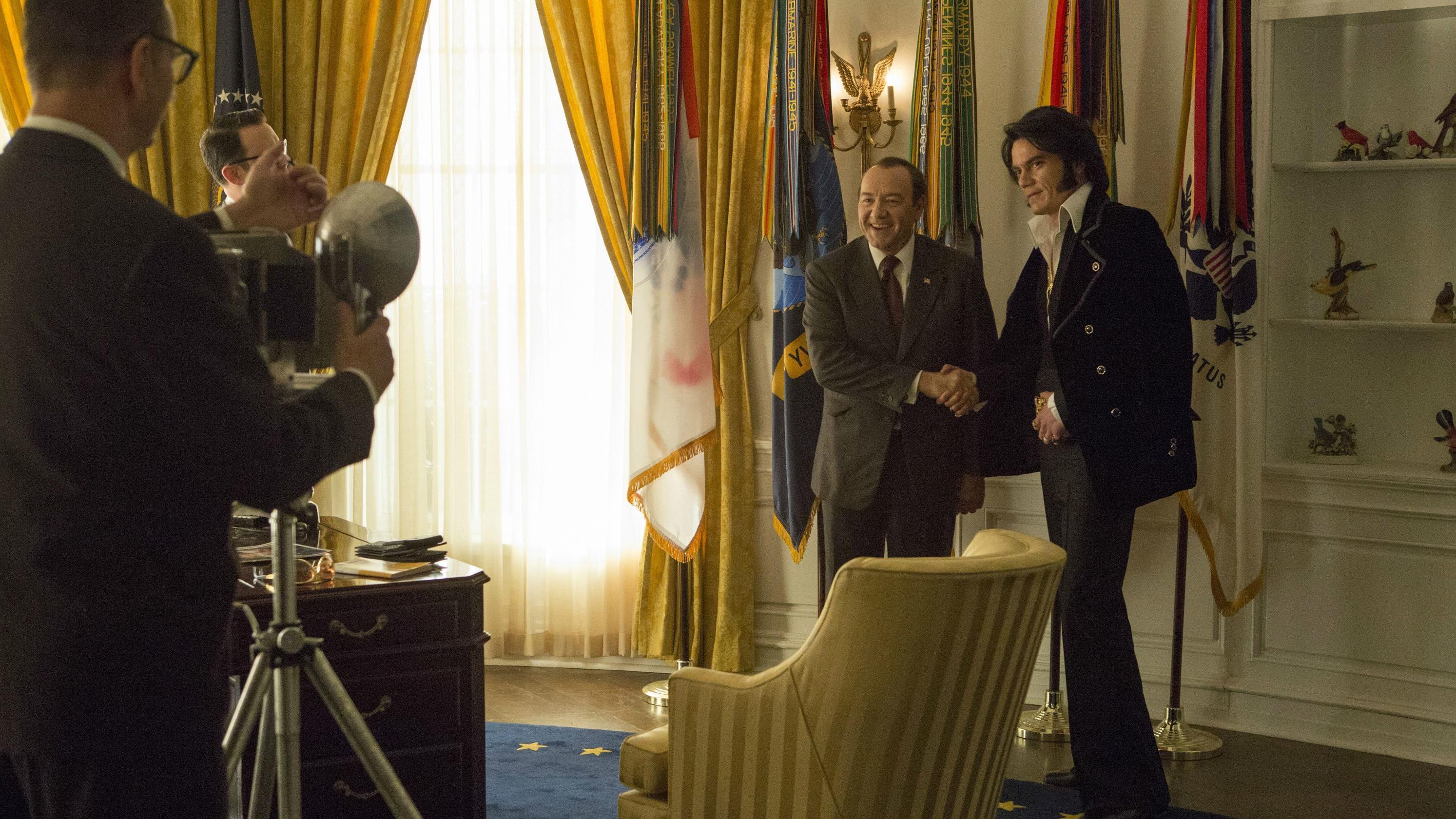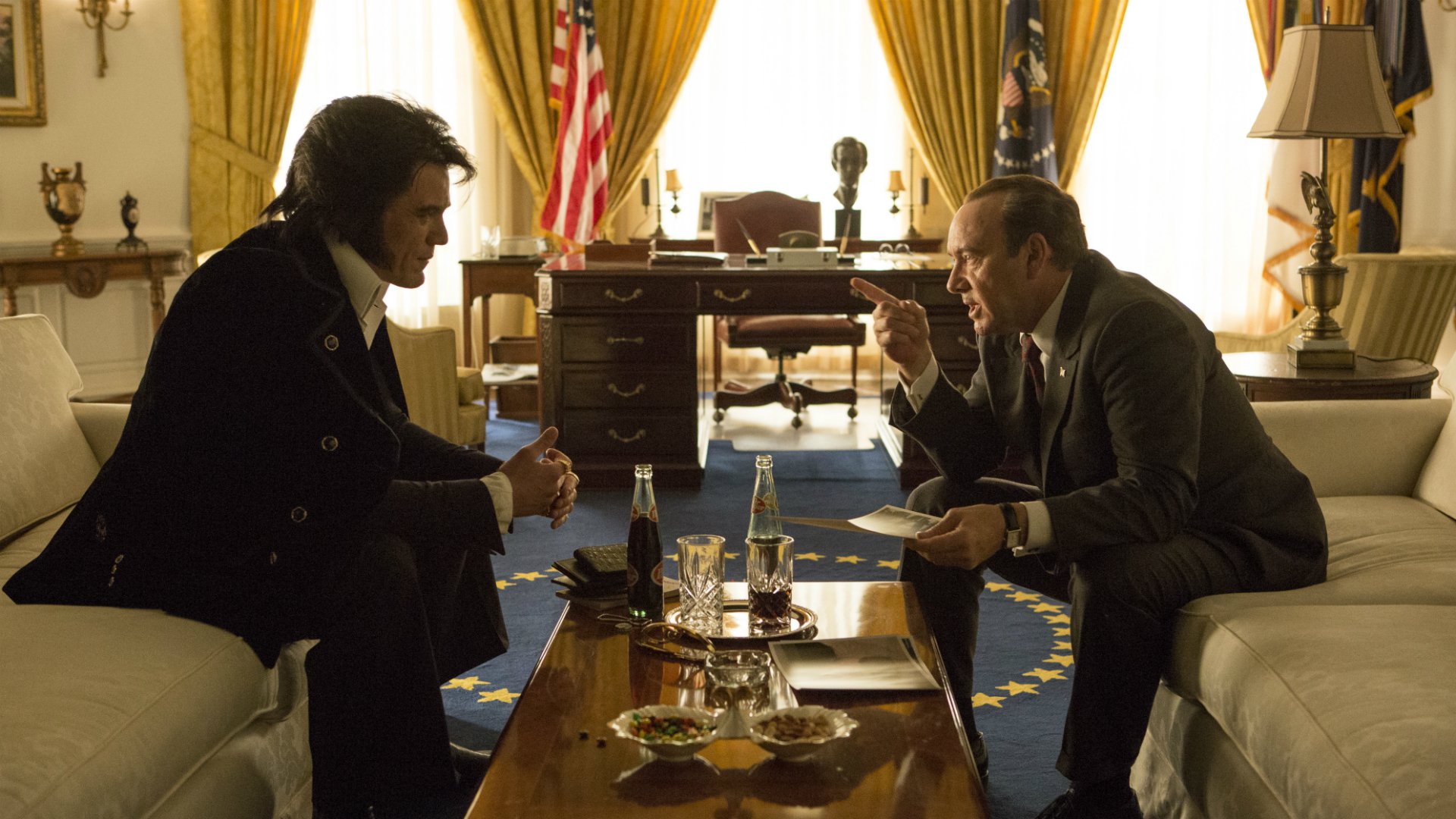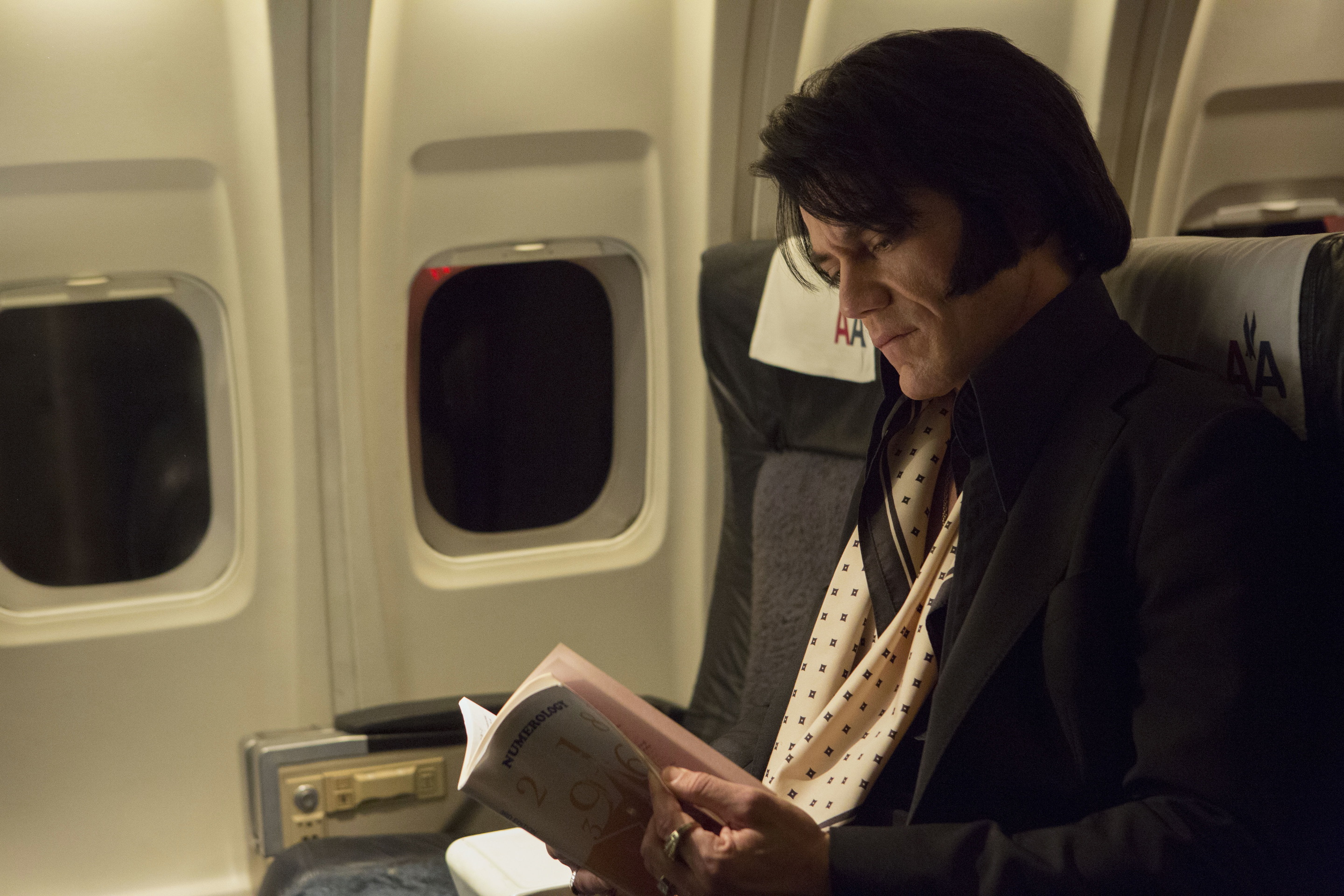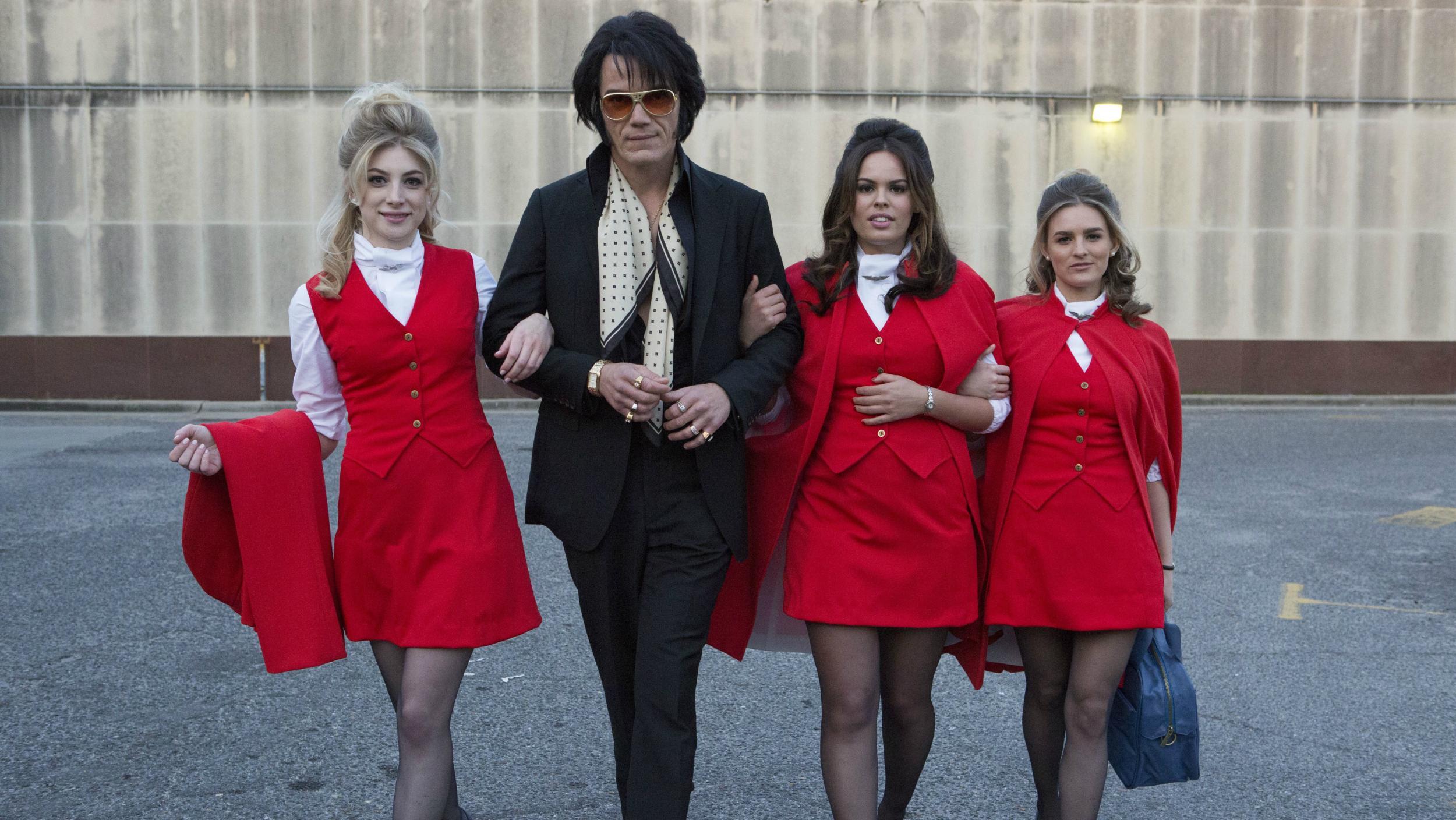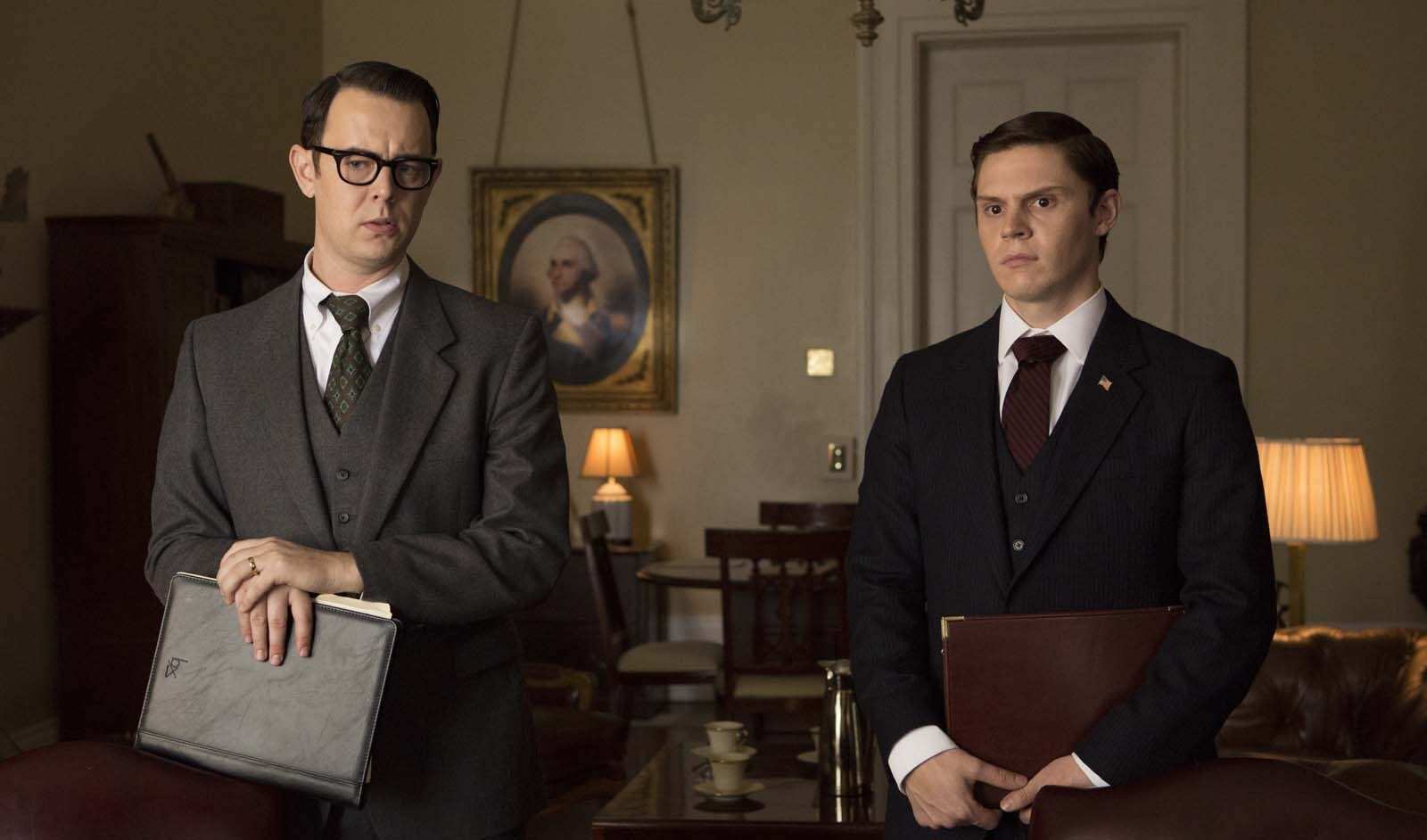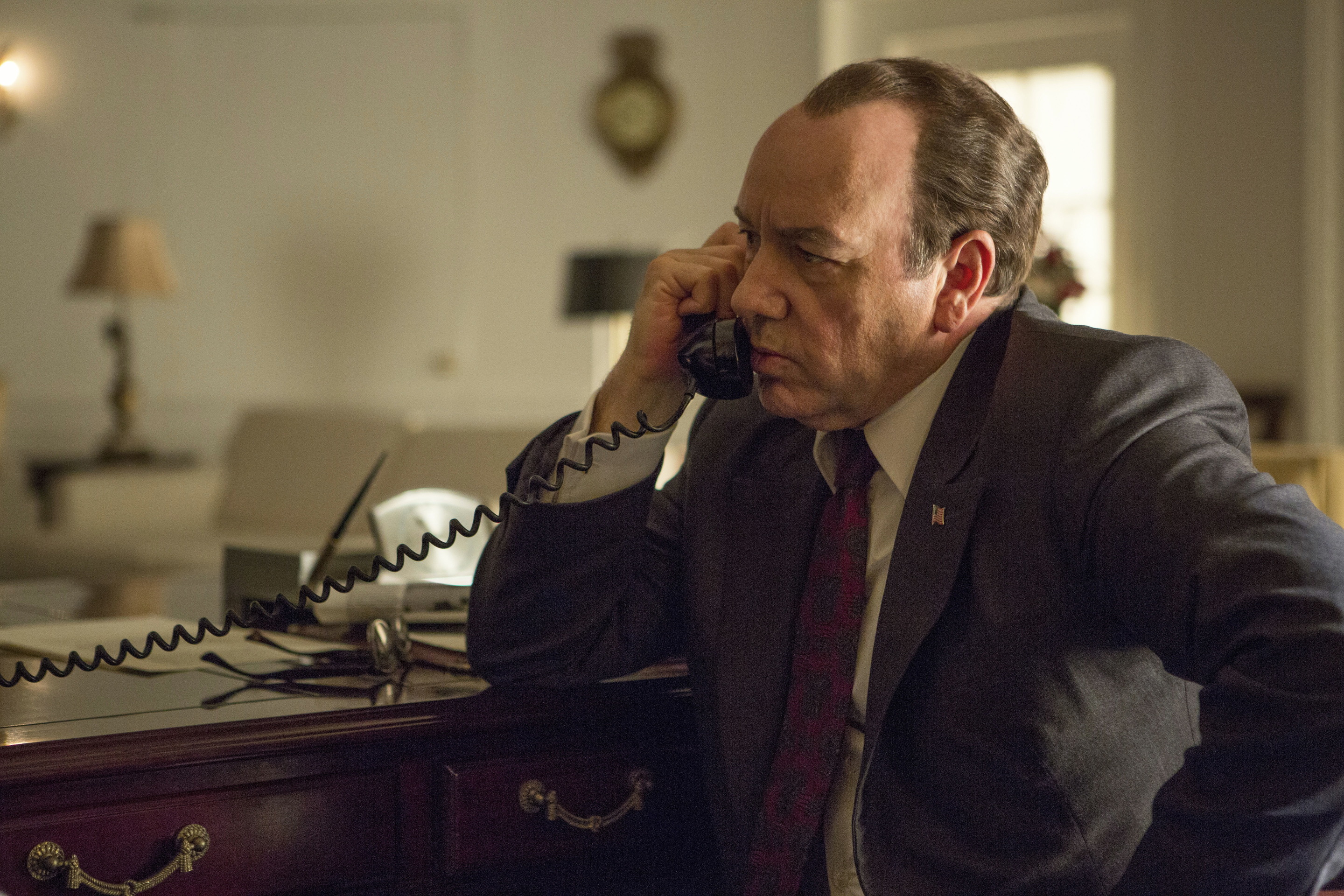 The odd couple
Kevin Spacey plays the president for laughs in a slight but enjoyable imagining of Elvis's real life meeting with Nixon.
Before the press show for this piece of pop history whimsy, the film's distributors wheeled out a bespangled Elvis impersonator, but sadly failed to enlist a concomitant Nixon tribute act. With his scarecrow arms, vulture shoulders and feral facial expressions, the 37th president of the United States is as easily caricatured as the King. On screen, he's been played by such luminaries as Anthony Hopkins in Nixon, Frank Langella in Frost/Nixon, and John Cusack in The Butler, all of whom had his trademark physical mannerisms down pat. Nor should we forget Bob Gunton, who brought more than a touch of Nixon to the role of Warden Norton in The Shawshank Redemption before starring in 1997's Elvis Meets Nixon, the small-screen forerunner of this flimsy but fun cinematic folly.
"Who the fuck set this up?" barks Kevin Spacey's typically grouchy tyrant in the opening moments of this larky drama, which flashes back to the strange events that brought Elvis to the White House gates in December 1970, hellbent on meeting the president. Both icons were increasingly paranoid; both had become weirdly out of touch with the modern world; both had something to gain from the meeting – the badge of a "federal agent-at-large" for Elvis, and the promise of some much-needed popular appeal for Nixon.
The only people who understand Elvis are the working-class African Americans he encounters in a local eatery
Described by Elvis's wingman Jerry Schilling as "a docu-comedy, if you will", Liza Johnson's film (from a screenplay by Joey and Hanala Sagal, and Cary Elwes) plays fast and loose with the facts as it serves up a pantomime encounter between its chalk and cheese main characters. As Presley, Michael Shannon lacks vocal and physical heft, but gets the singer's papal hand gestures just so, along with the air of aloofness that Nixon later attributed to Elvis being "basically a very shy man". Spacey plays it broad and cartoony, although there's a lovely, understated moment when his perennially awkward Nixon attempts to pat an aide on the back, a clumsy show of fumbled chumminess.
Comic cross-cutting juxtaposes protocol briefings about Elvis's sunglasses and Nixon's M&M's, while a covert meeting in a car park cheekily recalls a scene from All the President's Men. There is some soul-searching, too, with Elvis's lonely monologue about the death of his infant twin contrasting with Nixon's whining about his own hardscrabble roots, leading the president to conclude that "you and me – we rose from nothing". Yet amid all the dramatic invention there are also significant omissions, most notably Elvis's music, and a diplomatic silence about his dependence on prescription drugs.
More problematically, with its impromptu Oval Office karate demonstrations and hand-slapping games, Elvis & Nixon lacks the "just the facts" weirdness of official record. An infamous White House memorandum written by Egil "Bud" Krogh (the future Watergate convict, likably played by Colin Hanks) reports that Nixon repeatedly warned Presley of the need "to retain his credibility" and bizarrely "indicated that he was aware of how difficult it is to perform in Las Vegas", deliciously off-kilter details that the film sidesteps in favour of more slapstick silliness. Johnson also fails to capitalise upon the real-life comic highlight of the meeting; when Nixon presented souvenirs to Elvis's associates, Presley apparently said: "Mr President, they have wives and girlfriends too", sending Nixon scuttling back to his desk where Elvis rummaged for gold brooches.
Between the inevitable TV shootings and Dr Strangelove references, Elvis & Nixon falls back on pathos. "I become a thing, an object, no different to a bottle of Coke," says Shannon's lonely star, reflecting on his reliance upon hairspray and haemorrhoid cream to face his peers and public. Elsewhere he chides a Bureau of Narcotics and Dangerous Drugs official (a sharp turn by Tracy Letts) for failing to treat him as "a grown man", a telling anxiety that taps deftly into Elvis's southern cultural roots. Significantly, aside from Schilling (Alex Pettyfer) and Sonny West (Johnny Knoxville), the only people who understand Elvis in this film are the working-class African Americans he encounters when chowing down on a maple bar in a local eatery (a riff on his real-life visit to a doughnut store, where his ankle gun proved a superfly hit), or scrabbling for Cracker Jack snacks in the service area of his upmarket hotel.
Although initially reluctant about the script, Schilling ultimately gave Elvis & Nixon his blessing (he takes an executive producer credit), and one only has to recall Knoxville's previous rock memorabilia romp Grand Theft Parsons to appreciate how much worse this could have been. If you want the real story, go to the American National Archives, or to author Peter Guralnick. Elvis & Nixon may not be Almost Always True, but it's entertaining fluff and, frankly, That's All Right.
rogerebert.com, 4/19/2016
Elvis' original letter to Nixon
21 December 1970
Elvis Presley was an avid collector of police badges – and so keen to get his hands on one from the Bureau of Narcotics and Dangerous Drugs that he took a flight to the White House to hand deliver this letter.
A few hours later he had a meeting with President Nixon, gave him a Colt .45 pistol after a quick photocall, and asked for the badge he so wanted to own. Nixon obliged, they had their photograph taken, and the next day Elvis returned to Graceland. The official photos have since become the most requested in the history of the national archives.
Dear Mr President,
First, I would like to introduce myself. I am Elvis Presley and admire you and have great respect for your office. I talked to vice-president Agnew in Palm Springs three weeks ago and expressed my concerns for our country. The drug culture, the hippie elements, the SDS, Black Panthers, etc do not consider me as their enemy or as they call it, the establishment. I call it America and I love it. Sir, I can and will be of any service that I can to help the country out. I have no concerns or motives other than helping the country out.
So, I wish not to be given a title or an appointed position. I can and will do more good if I were made a federal agent at large and I will help out by doing it my way through communications with people of all ages. First and foremost, I am an entertainer, but all I need is the federal credentials. I am on the plane with Senator George Murphy and we have been discussing the problems that our country is faced with.
Sir, I am staying at the Washington hotel, Room 505-506-507. I have two men who work with me by the name of Jerry Schilling and Sonny West. I am registered under the name of Jon Burrows. I will be here for as long as it takes to get the credentials of a federal agent. I have done an in-depth study of drug abuse and communist brainwashing techniques and I am right in the middle of the whole thing, where I can and will do the most good.
I am glad to help just so long as it is kept very private. You can have your staff or whomever call me anytime today, tonight or tomorrow. I was nominated this coming year one of America's 10 most outstanding young men. That will be in January 18 in my home town of Memphis, Tennessee. I am sending you a short autobiography about myself so you can better understand this approach. I would love to meet you just to say hello if you're not too busy.
Respectfully, Elvis Presley
PS
I believe that you, sir, were one of the top 10 outstanding men of America also. I have a personal gift for you which I would like to present to you and you can accept it or I will keep it for you until you can take it.

12/12/2016
Karate mit dem King
Für ihre Kinokomödie Elvis & Nixon hat sich die Regisseurin Liza Johnson vom echten Treffen zwischen dem Rockstar und dem US-Präsidenten inspirieren lassen.
Das sei ja wohl eine ziemlich miese Kopie, kritisiert ein Elvis-Imitator am Flughafen einen Kollegen. Niemals würde sich der echte King so anziehen! Diese großspurige Behauptung prallt am Angesprochenen aber aufs Schönste ab, denn bei der vermeintlichen Kopie handelt es sich ums Original. Oder, genauer gesagt, um einen Schauspieler, der das Original verkörpert, stilecht im schwarzen Anzug, mit breitem Goldgürtel, ausladenden, weißen Kragenflügeln, dicker Sonnenbrille und hochtoupierter Perücke.
Die Pointe ist, dass Michael Shannon, einer der beiden Hauptdarsteller in Elvis & Nixon, mit seinem kantig vernarbten Gesicht äußerlich keinerlei Gemeinsamkeiten mit den weichen Zügen von Elvis Presley hat. Womit sich der Film von vornherein von jeglichem Ähnlichkeitsballast befreit, der seinen Helden nur zu einem weiteren Elvis-Imitator machen würde. Stattdessen reicht es völlig, die staunende Schockstarre in den Gesichtern der Menschen zu sehen, vor denen er unvermittelt auftaucht, vor der Stewardess am Flughafen, den Sicherheitsbeamten und der Empfangsdame im Weißen Haus und sogar den engsten Beratern des Präsidenten.
Lange bevor es üblich wurde, dass sich Prominente mit Staatschefs zum Austausch über die Weltlage treffen, kam es vor 46 Jahren, am 21. Dezember 1970, zu einer Begegnung zwischen Elvis Presley und dem damaligen amerikanischen Präsidenten Richard Nixon. Das berühmte Foto der beiden, das bei diesem Treffen entstand, wurde seitdem so oft wie kein anderes Dokument der Zeitgeschichte im US-Nationalarchiv angefragt. Nachdem das bizarre Ereignis schon vor rund 20 Jahren den Regisseur Allan Arkush zu seiner TV-Mockumentary Elvis und der Präsident angeregt hatte, lässt sich nun auch die Indie-Regisseurin Liza Johnson für ihren Film von der Geschichte inspirieren. Und weil damals die Gespräche im Weißen Haus noch nicht aufgezeichnet wurden, kann sie sich alle Freiheiten der künstlerischen Interpretation herausnehmen.
Zu den wenigen überlieferten Dokumenten gehört neben 28 Fotos aus dem Oval Office und diversen Memoranden der Mitarbeiter des Weißen Hauses auch ein Brief, in dem Presley dem Präsidenten seine Hilfe im Kampf gegen die Verwahrlosung der Jugend durch Drogen anbot. "Dear Mr. President, darf ich mich vorstellen, ich bin Elvis Presley, ich bewundere Sie und habe großen Respekt für Ihr Amt ….", steht in krakeligen Buchstaben auf American-Airlines-Papier. Das fünfseitige Schreiben, das im Netz abrufbar ist, endet mit den Worten: "Ich würde Sie sehr gerne treffen, um Hallo zu sagen, wenn Sie nicht zu beschäftigt sind, respectfully Elvis Presley."
Aus heutiger Perspektive wirkt diese vorsichtige Anbandelei zwischen zwei Superstars aus vollkommen unterschiedlichen Universen skurril und unschuldig. Elvis schrieb dem Präsidenten seinen Brief und bestieg dann eine Linienmaschine nach Washington, um auf dem Rasen vor dem Weißen Haus auf sein Gespräch zu warten. Einerseits ist dieser Elvis ein anmaßender, egoistischer Typ, der ins Oval Office marschiert, in die Schale mit Schokonüssen greift und den Raum mit ausgreifenden Karate-Bewegungen durchmisst. Andererseits lässt Michael Shannon aber auch eine Verlorenheit und Zerbrechlichkeit spüren, den Elvis, der an seinem Ruhm zerbrechen wird.
In ihrer Fantasie der Ereignisse stellt sich Liza Johnson vor, dass Nixon wenig Lust hatte, sein Nachmittagsschläfchen für ein Treffen mit einem dubiosen Popstar zu opfern. Während seine Berater einen enormen Imagegewinn bei jugendlichen Wählern witterten, lässt sich der Präsident letztlich nur von seiner Tochter überzeugen, die sich ein signiertes Foto wünscht. Für die Nixon-Rolle reichert Kevin Spacey seinen fiktiven House of Cards-Präsidenten mit ein paar sehr amüsanten Nixon-Manierismen an.
Die irrwitzige Ausgangssituation lässt die Regisseurin zwischen Politsatire und Celebrity-Farce oszillieren. Unablässig reiben sich Schein und Sein, Show und Realität aneinander, in Dialogen voller Anspielungen auf die Zeitgeschichte. Wenn Elvis dem Präsidenten treuherzig Ehrlichkeit bescheinigt, denkt man mit dem Wissen der Nachgeborenen natürlich daran, dass Nixon knapp vier Jahre später als Watergate-Lügner entlarvt und zum Rücktritt gezwungen wurde. Elvis Presley aber ist in dieser Komödie vollkommen überzeugt von seinem Präsidenten und bietet ihm seine Dienste als Undercover-Agent an. Schließlich habe er schon in Dutzenden Kinofilmen mitgespielt und sei deshalb ein ausgewiesener Experte für Kostüme und Verkleidungen.
Panel Discussion: "We Were There When Nixon Met Elvis"
Interview with director Liza Johnson
Tom Jones on meeting Elvis Presley
1968: Richard Nixon's campaign for president
Kevin Spacey on "Elvis & Nixon"
Movie Data
o
Genre
Comedy, Period piece
Original language
English
Cast & Crew
o
Kevin Spacey
Richard Nixon
Michael Shannon
Elvis Presley
Alex Pettyfer
Jerry Schilling
Bonus
o
Panel Discussion: "We Were There When Nixon Met Elvis"
Interview with director Liza Johnson
Tom Jones on meeting Elvis Presley
1968: Richard Nixon's campaign for president
Kevin Spacey on "Elvis & Nixon"
Elvis' original letter to Nixon
Review Süddeutsche Zeitung
Zeitgeschichte: Der King beim President