L'enfant d'en haut
Ursula Meier, Switzerland, France, 2012
o
In winter, twelve-year-old Simon travels from the valley, where he lives alone with his sister Louise, to the higher ski area. There he steals skis and equipment to sell. Louise, who has recently lost her job, profits from it and becomes more and more dependent on her brother.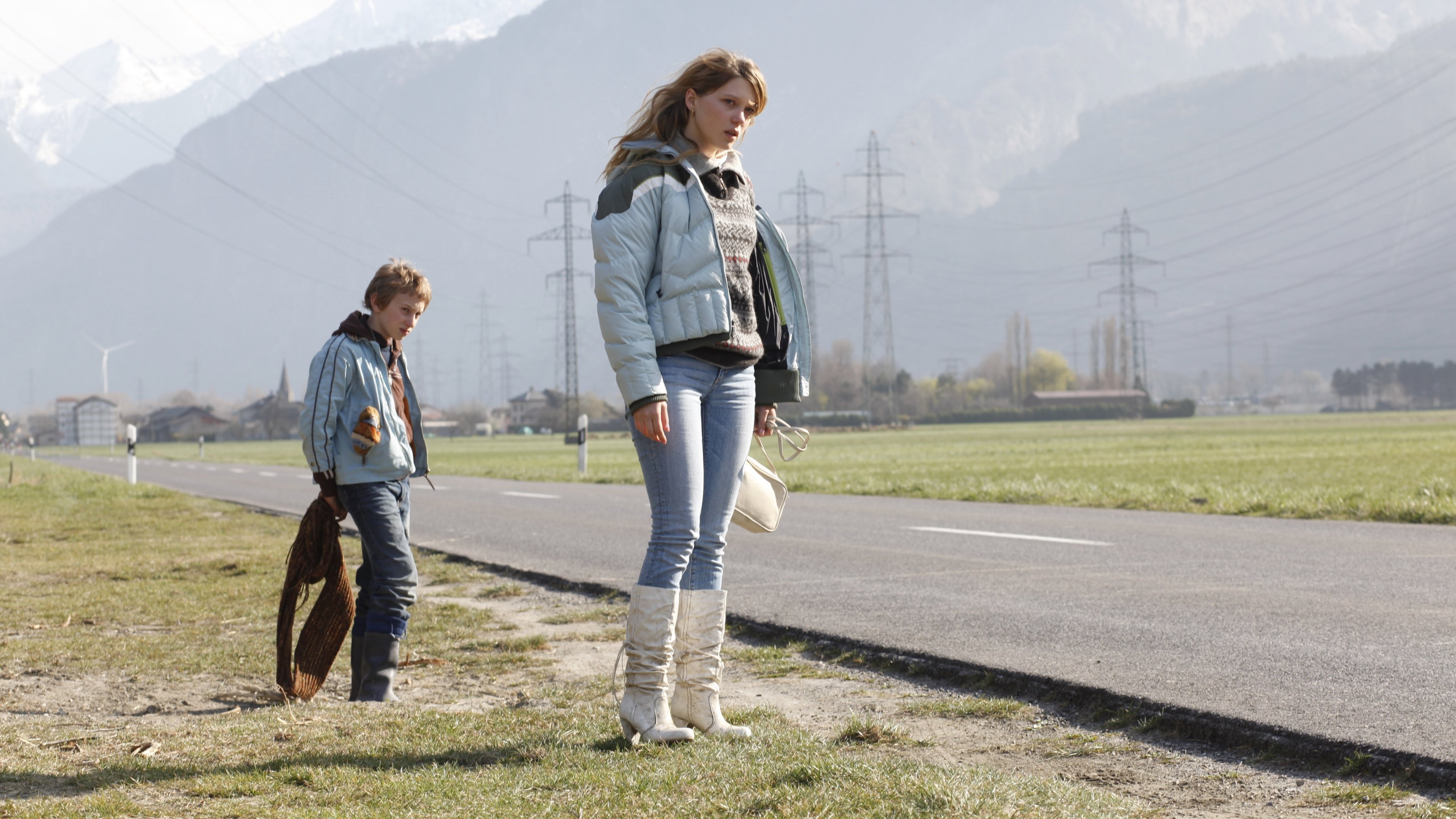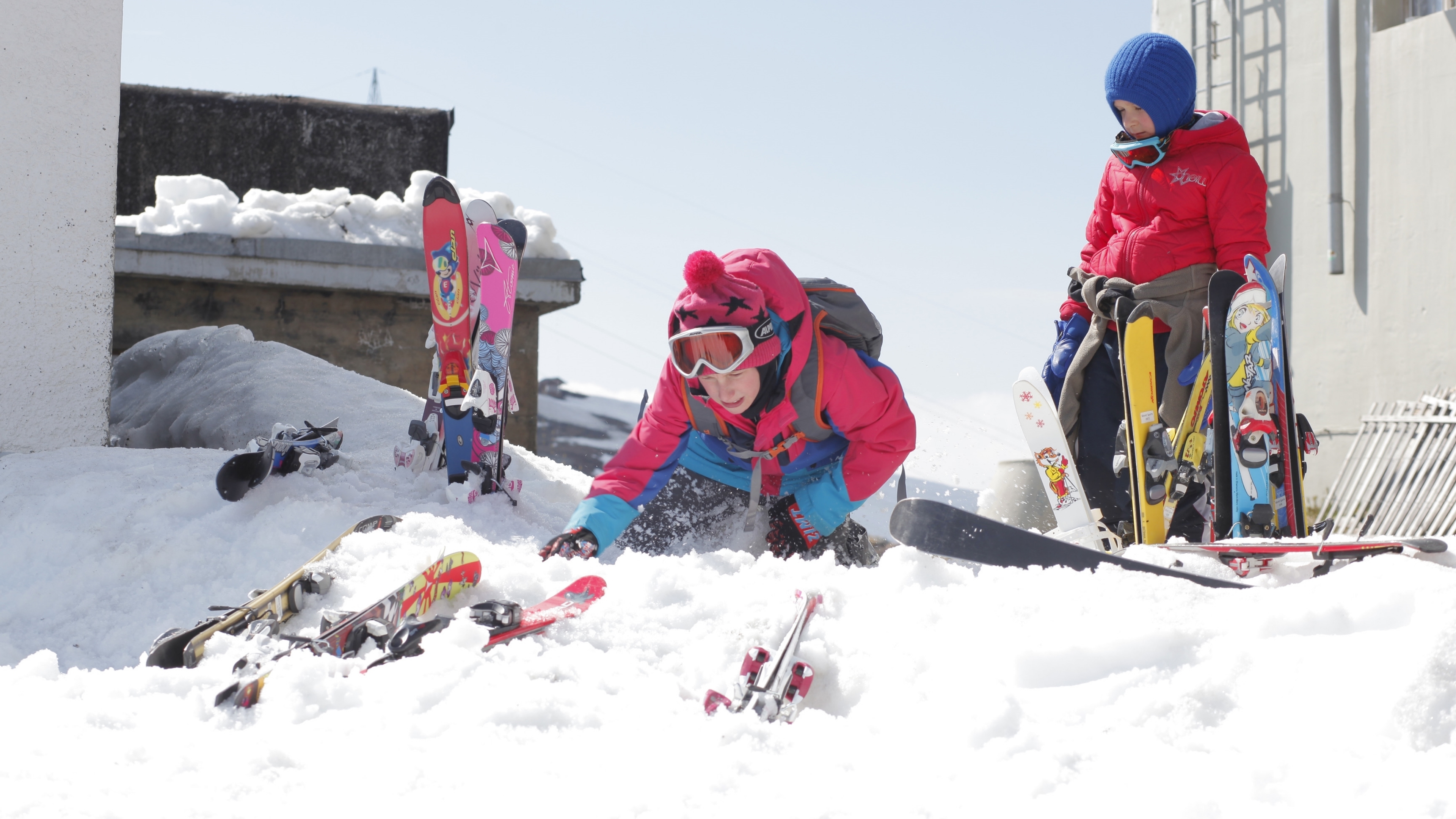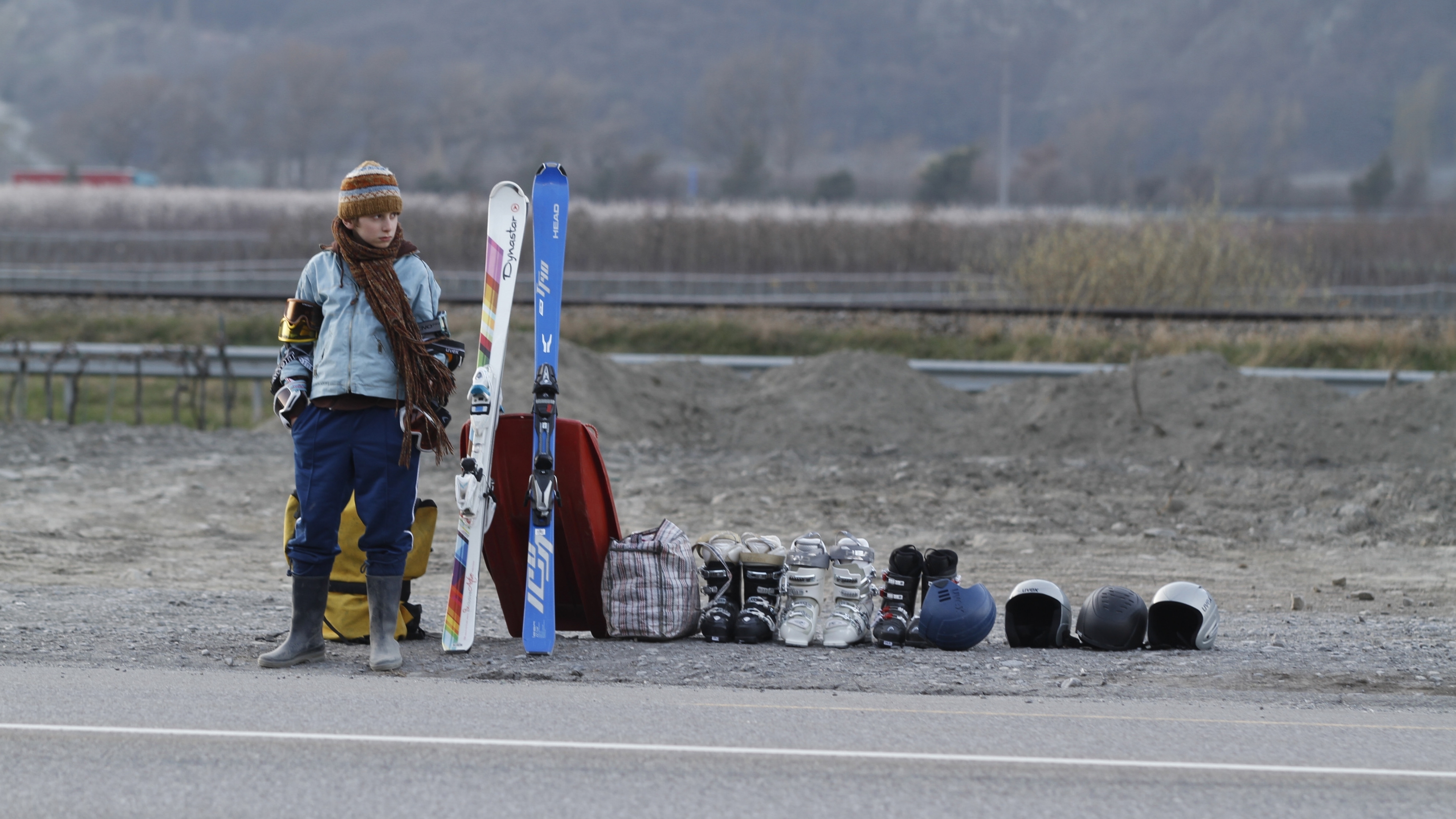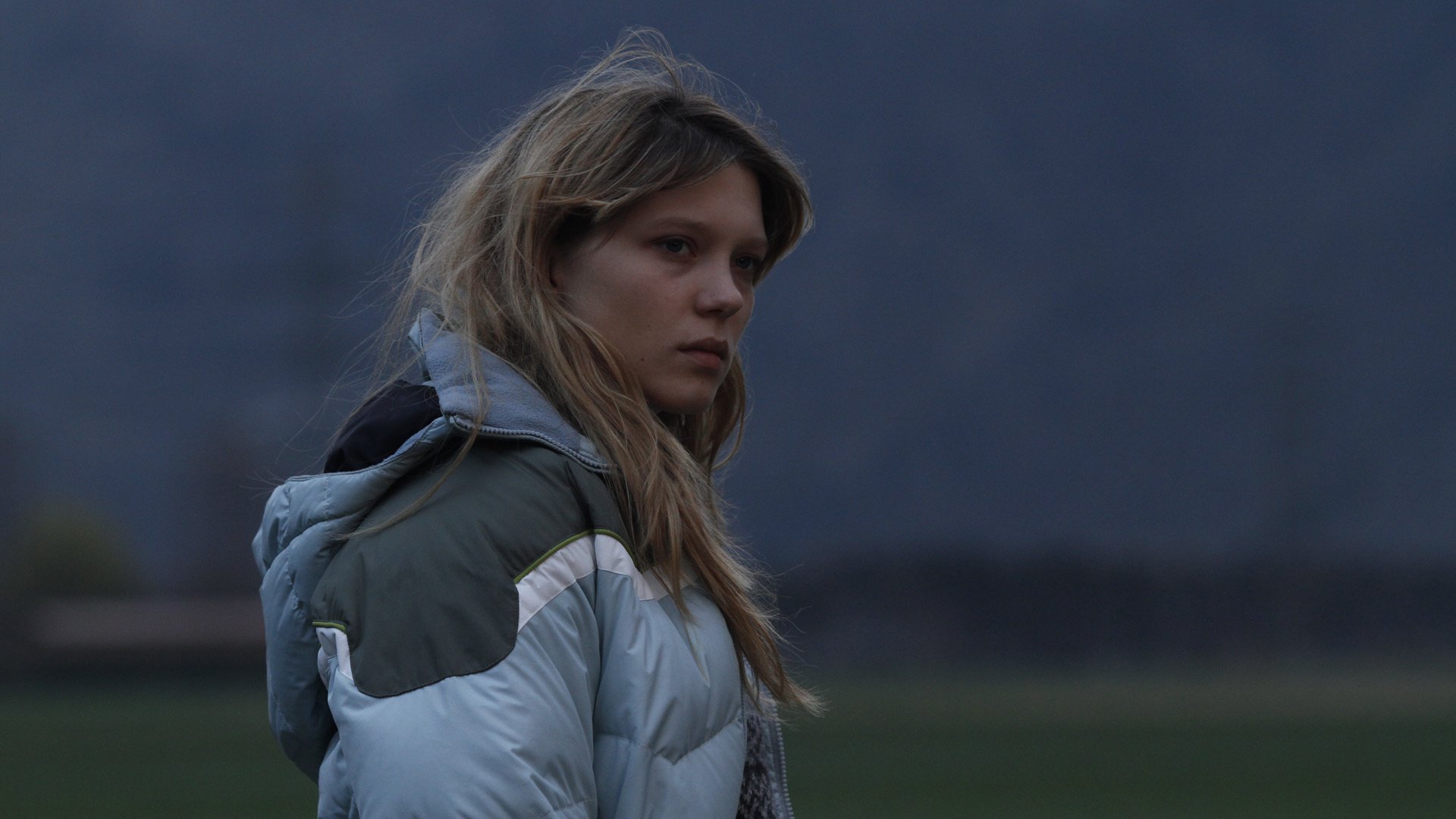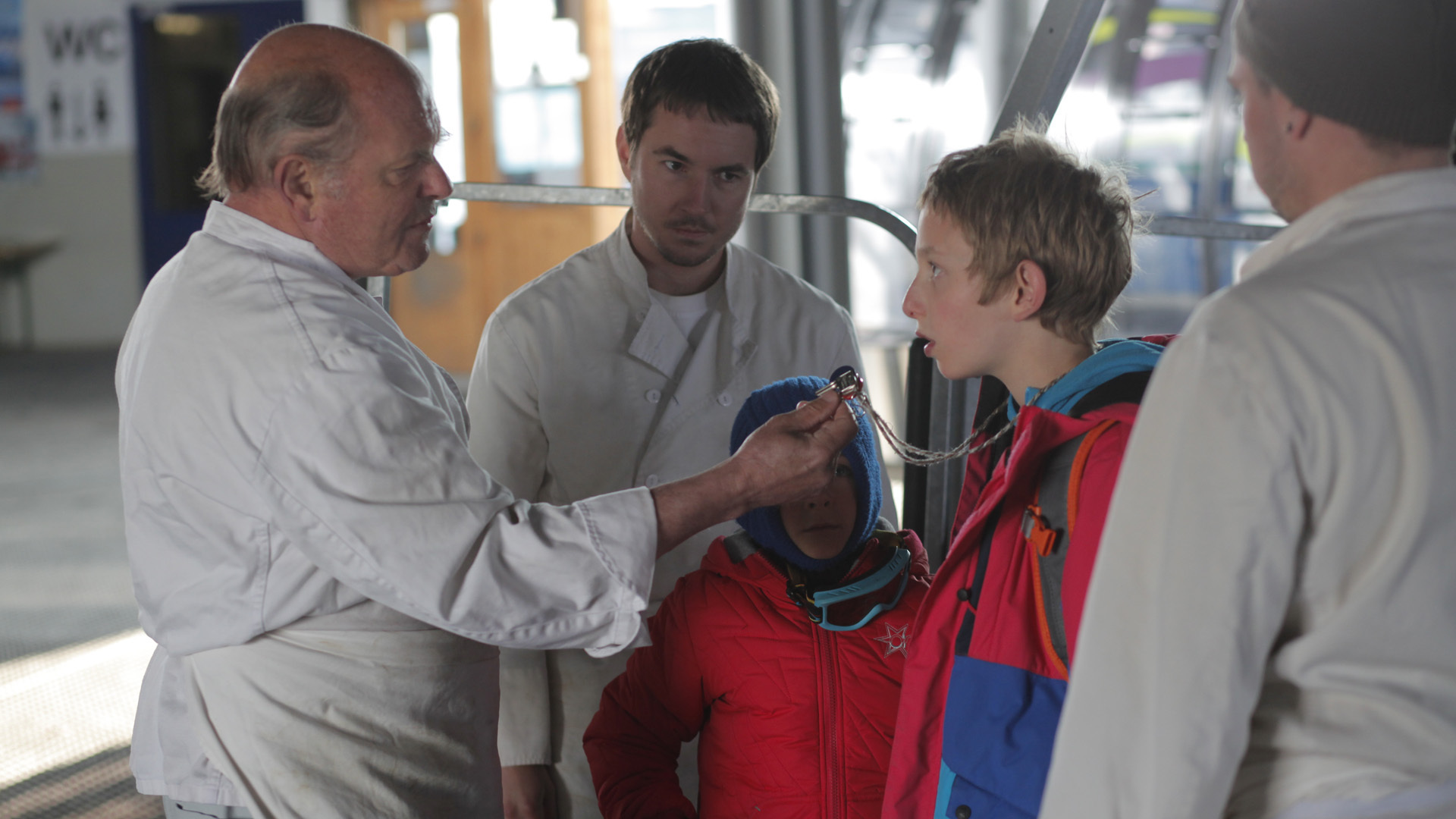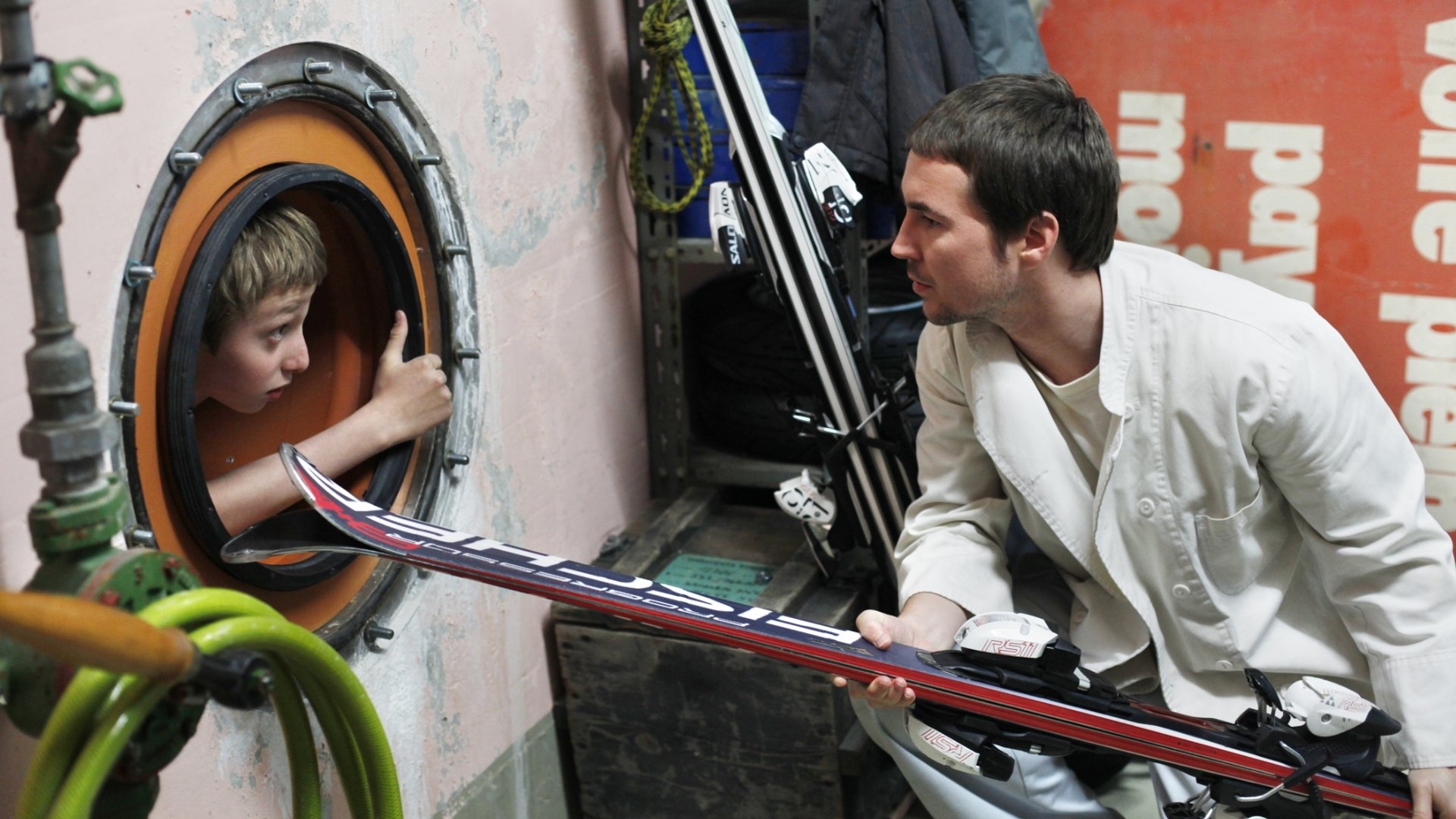 Sister (L'Enfant d'En Haut)
Ursula Meier's film of the highs and lows of valley life continues the trope of her critically acclaimed feature Home.
In Home, which brought her to the attention of film lovers, and now Sister (L'Enfant d'En Haut), the Franco-Swiss director Ursula Meier explores borders, and, by extension, as any western enthusiast will know, their political and moral connotations. In Home the border is horizontal and fabled, separating a cramped family lodging and a stretch of motorway, suddenly put to a new use. In her second film the frontier is vertical and social, dividing the peaks of a smart ski resort from the hard-working valley it overlooks.
Both films seek ways through their respective borders, revealing their illusive, arbitrary nature. Simon (Kacey Mottet Klein, also seen in Home), 12, with his sly looks and quick fingers, is a border-crosser. The story is straightforward: the boy lives in the valley with his flighty, immature elder sister (Léa Seydoux), struggling to make ends meet. But in the winter he becomes a mountain kid and, disguised as a youthful ski bum, steals whatever comes to hand. All he requires is a ski pass and a cool head.
Meier explores the cruel physical and atmospheric contrasts between the two worlds, high and low, dwelling on the cloudy skies, grimy slush and the shadow cast by the peaks, which brings semi-darkness to the valley bottom. Here is an area of industrial wasteland, car parks, sad, ugly housing blocks. This is where Simon lives, sharing a little flat with his sister Louise, a wild, unhappy young drifter, who more or less depends on him for her survival.
These two anarchists, apparently parentless, form a topsy-turvy couple. Somewhere there's a secret, so huge and painful it can never be mentioned.
Which explains why the world up there is necessary, a pure, white world drenched in sun, inhabited by affluent skiers, enjoying a carefree life in the powder snow. It is a place of trust too, shared by people from the "right" backgrounds, liberated from their habitual lowly concerns. So changing rooms, garments, boots, wallets, skis and sledges are all visible and available, everyone here being too busy having fun to yield to such temptations.
Except, of course, for Simon, who takes advantage of these treasures thanks to an initial outlay, soon recovered, to purchase a ski pass. Wearing heavy ski boots and a bulky anorak, his face concealed by a balaclava or a helmet, he mounts daily raids. Sandwiches, small change, jackets, skis, poles: nothing escapes his wary eye and insatiable appetite.
His method, though proven, involves risks. He stashes gear temporarily behind the bins at the high-altitude restaurant, has an understanding with a migrant worker, swiftly changes his disguise in the toilets and wears several layers of stolen garments.
In this reworking of Tom Thumb, where thieving takes the place of tricks, the chef at the restaurant makes a plausible ogre and a pretty British tourist a fantasy mother. At times Simon even pretends to be a well-heeled local lad, strolling through the deck chairs on which the happy few relax.
But at the end of each day he must return to the valley and sell off his swag. Down here, he must act tough too, to impress his mates, and pretend to be a big brother for his sister. He must play the man when he is still a child. The only problem with the film is its attempt to settle scores with society's pretence of purity and perspective, its disregard for the impurity, injustice and suffering below. One might conclude that Meier is only concerned with Switzerland, but in fact throughout the world the peaks of the social pyramid are suffering from altitude sickness.
Slippery slopes
The French-Swiss director of Home talks about her follow-up, an Alpine Tom-Thumb fairy tale.
Ursula Meier is puzzled that English and American critics have compared her second feature Sister to the 'intimate realism' of the Dardenne brothers. Set in a Swiss ski resort and the industrial valley beneath it, the film explores the fraught relationship between a cunning 12-year-old boy Simon (Kacey Mottet Klein, who appeared in Meier's feature debut Home) and his volatile older sister Louise (Léa Seydoux), who seem to have been abandoned by their parents. (Sister's French title 'L'Enfant d'en haut' also brings to mind one or two Dardennes titles.)
"I love [their] films", she reveals, "but when my cinematographer Agnès Godard and myself were preparing Sister, we looked at certain photographers and paintings, and we never spoke about the Dardennes. There are no police or social workers in the film, and very few adult figures. We wanted to create a fable-like atmosphere, something like Charles Perrault's fairy tale Le Petit Poucet ('Hop-o'-My-Thumb' / 'Little Thumbling'), and steer clear of miserabilism. I did though think of Ken Loach's Kes, and of course one of my actors was Martin Compston [whose character Mike works in a mountain café and becomes involved in Simon's theft of skiing gear.)
The 41-year-old Meier herself grew up in the Jura region of Besançon, very close to the border between France and Switzerland, and just a few minutes drive from the ski slopes. She recalls a young boy who was banned from travelling on the cable car on account of his repeat thievery, and it was this memory that inspired the screenplay for Sister.
"Before Home, back in 2002, I shot a TV film for Arte called Strong Shoulders, set in this industrial plain in Switzerland", she explains. "The tower where Simon and Louise live was a location in Strong Shoulders [too], and that setting stayed in my heart. You have the smog from the nearby factory that mixes with the sky, and then you have another world with the mountains."
Whereas the enigmatic Home, the story of a family driven to extreme measures by a motorway opening beside their isolated rural home, existed primarily in a horizontal sphere, "Sister is a vertical film built around the continual movement between 'down below' and 'up top'. I don't actually show very much of the mountains. It's only at the end, when Simon is no longer working and when the season is finished, that I use a more traditional landscape shot."
For his creator, Simon is like a worker ant, constantly fetching and carrying tasks, and using the money he earns to buy food for himself and his underemployed sibling.
"I also think of him as an actor," says Meier. "He has this costume, which is his skiing outfit, and his locker at the foot of the cable car is like a changing room. The ski station itself is like a theatre: you have the rich customers, and I show the behind-the-scenes areas, like the kitchen, the toilets and the room where the workers sleep."
Meier seems to have no difficulty in assembling intriguing casts for her films. Home paired Isabelle Huppert and Olivier Gourmet as the parents, and Adelaide Leroux (from Bruno Dumont's Flanders) and Mottet Klein as two of the couple's children. With Sister, there's French actress du jour Seydoux (who, despite being in her twenties, has already worked with Catherine Breillat, Woody Allen, Christophe Honoré, Ridley Scott and Quentin Tarantino), Scotland's Compston, and Gillian Anderson, who's billed in the credits as "The English lady".
The then 12-year-old Mottet Klein, notes Meier, "was exactly the right age for Simon, who's a child seeking love. One year older and he would have grown up too much and his sexual development would have been a problem."
Seydoux meanwhile has an elusive quality, reckons the director, and an ability to play characters from different social classes. "She can internalise Louise's sadness and pain, and then when she eventually cries out, it's like a volcano erupting. Her real age is 28, but she can look much younger. I liked the idea that in the film you can't tell whether or not her character she comes from a middle-class or a poor background.
"As for Gillian," Meier continues, "I was looking for a star to play Simon's fantasy mother. You can't see much of her face in the film, because it's hidden under a hat. She comes from another world – television rather than cinema – and another language, so that fitted the idea that she's like an apparition."
Meier, whose own father is Swiss-German and mother is French, and who herself studied in Brussels at the Institute of Visual Arts, defines herself as a European filmmaker. "It's funny, because when my films are released in France, people say, 'Well they don't look like French films'. I'm a mixture of influences: there's the Protestant side from my father, which is about being concise, and not using too many words, and stripping things down to their essence. There's also the French influence of filmmakers like Pialat and Eustache. So I feel like I'm a the meeting point of many different European influences, and I think that's reflected in my work."
Tages-Anzeiger, 4/21/2012
Wenn alles an dem einen Faden hängt
Mit «Sister» schuf die schweizerisch-französische Filmautorin Ursula Meier nach «Home» ihren zweiten langen Spielfilm – ganz nah, packend und in unverwechselbarer Handschrift wie der erste.
Plötzlich kommt einem der Gedanke, er sei eine kleine, bunt schillernde Spinne, dieser zwölfjährige Simon, eine hungrige Spinne, die sich Morgen für Morgen an ihrem Faden hochzieht, um oben im Netz die Beute zu sammeln. Auch wenn der Vergleich hinken mag, so ist doch der eine Faden, an dem oft und in ganz unterschiedlichen Situationen, sei es vor dem Konkurs oder in der Intensivstation, bekanntlich alles hängen kann, im Film «Sister» von Ursula Meier das wichtigste Requisit. Es handelt sich allerdings um einen recht starken Faden, einen gut gezwirnten.
Gondelpendler
Aus Stahl ist er vom Tal ins Winterparadies gespannt, und das Spinnchen Simon nimmt in einer Gondel Platz. Die Bahn verbindet seine bescheidene Adresse in der Ebene mit seinem Arbeitsort auf dem Berg mit den schnellen Pisten. Aber er fährt nicht Ski. Er ist ein junger Pendler, ein Vertikalpendler müsste man wohl sagen. Und er ist ein Dieb, der sich aus dem Überfluss an teurem Gerät und an Luxuskleidung einiges herunterholt, um in der Tiefe zu überleben.
Senkrecht ragt auch der Wohnblock auf, der gerne ein Hochhaus wäre – ein lächerlicher Wunsch vor der weiss aufragenden Natur. Hier lagert und verhökert Simon seine Beute, denn hier wohnt er mit seiner älteren Schwester Louise, die sich im Unterschied zu ihm auf dem Talboden bewegt, in der Horizontalen – auch von Mann zu Mann. Während der Bruder nach oben strebt, geht es mit ihr eher bergab ins Ungewisse.
Der aktuelle Titel «Sister» bezieht sich auf Louise. In der früheren französischen Fassung hiess der Film «L'enfant d'en haut». Damit ist Simon gemeint. Dass es die beiden Titel gibt, ist nicht unwichtig, zeigt sich in ihnen doch von Anfang an die Gleichwertigkeit der beiden Protagonisten für Ursula Meier. Sie hat ein Zweipersonenstück geschaffen: Louise wie Simon gehört ihre ganze Hingabe, ihre präzise Charakterisierung und Zeichnung und ihre Liebe.
Und genau da liegt das Besondere des Films «Sister», das berührend Persönliche im Schaffen der 41-jährigen Filmemacherin: Mit ihrem einfachen, klaren, sparsamen und äusserst konsequenten, ja radikalen Erzählen und Gestalten, das stets von tiefem Empfinden und Verstehen getragen wird, macht sie ihr Publikum nicht nur zu Zeugen, sondern zu Vertrauten, Begreifenden, möglicherweise sogar Verzeihenden. Jedes Denunzieren oder gar Verurteilen fehlt und wird auch für das Publikum unmöglich oder zumindest fragwürdig.
Denn da hängt mit Simon so vieles in der Luft zwischen «haut et bas», zwischen oben und unten, arm und reich, Luxus und Enge, Betriebsamkeit und Existenzangst, Dolcefarniente und Arbeitslosigkeit. Die Aufzählung kann fortgesetzt werden. Damit kommen wir dem Geschwisterpaar näher, den jungen Menschen und ihrem schwierigen, von ungesagtem bedrohtem Zusammensein, ihrem Innenleben in einer feindlichen Aussenwelt. Mit dem Erlös aus den zusammengestohlenen Sportartikeln der verschwenderischen Feriengesellschaft glaubt Simon, die Liebe von Louise kaufen zu können. Doch er erhält nur eine bedrohliche Hörigkeit. Das Suchen und die Sehnsucht bleiben akut – bei beiden.
Ganz ohne Klischees
Die Tourismuswerbung wird mit «Sister» kaum etwas anfangen können, weil Ursula Meier alle die geliebten Klischees weglässt. Zwar ist einem von Anfang an klar, dass «Sister» im Wallis gedreht worden ist, doch Namen werden keine genannt. Die Orte heissen Oben und Unten, Strasse und Gondelbahn, Betonküche und Liegestuhlterrasse, Pulverschnee und Pflotsch. Der Film könnte überall spielen, wo es ein Unten und ein Oben gibt. Und dadurch wird er über die realistisch feine Menschenzeichnung hinaus zur Fabel oder zum Gleichnis, zu einem Psychogramm unserer Gegenwart. Ursula Meier «abstrahiert» auf raffinierte Art, lässt Polizei und Sozialarbeiter, Ver- und Gebote einfach weg, um ganz den seelischen Spuren von Simon und Louise folgen zu können. Nach einer Wintersaison von Weihnachten bis Ostern apert und taut es in mancher Hinsicht. Aber man darf den Spuren oder dem bekannten Faden weiterhin folgen. «Sister» ist ein offener Film.
Und ein meisterlicher. Zur Handschrift der Regisseurin – das Drehbuch verfasste sie zusammen mit Antoine Jaccoud und Gilles Taurand – kommt das die Rollen inkarnierende Spiel von Kacey Mottet Klein (Simon) und Léa Seydoux (Louise). Die Kamerafrau Agnès Godard hat es verstanden, an die Menschen, an die Gesichter zu führen, ohne die Intimität zu stören, und zudem fasste sie mit feinsten Farbtönungen die einzelnen Teile der Geschichte zusammen. Ebenso intensiv wie unaufdringlich integriert sich die Musik von John Parish in den Film, diese berührende Ganzheit zwischen unten und oben, aber auch mit «le haut du bas et le bas du haut».

4/25/2012
Sister
Ein schlaksiger Junge mit schmalem Gesicht und grossen Ohren streift an der Bergstation eines Skiorts um die Restaurants. Er ist auf der Suche nach unbeaufsichtigten Skis, nach Rucksäcken, Skibrillen, Jacken und Handschuhen, die er mitlaufen lässt. In der engen Toilette dann sortiert er seine Ausbeute. Er verdrückt die hausgemachten Sandwichs aus den geklauten Rucksäcken und studiert Werbeprospekte, um sein Auge für die neusten und teuersten Skimarken zu schärfen. Einen Teil des Diebesguts versteckt er in Verschlägen und unterm Schnee – wie ein Hund, der seine Knochen an einem sicheren Ort vergräbt, um sie für später aufzuheben. Mit dem Rest – das, was er tragen kann – fährt Simon allein mit der Gondel talwärts, wo er bei der Seilbahnstation eine Art Garderobe eingerichtet hat. Dann packt er seine Beute auf einen Schlitten, überquert die Schnellstrasse, ein Brachfeld, den Parkplatz, um auf ein isoliertes Hochhaus zuzusteuern: ein hässliches Teil in einer gesichtslosen Vorortssiedlung. Dort lebt Simon mit seiner Schwester Louise. Dort verkauft er seine Sachen an seine Kumpels.
Einiges in Sister erinnert an Ursula Meiers letzten grossen Spielfilm Home. Nicht nur der Hauptdarsteller Kacey Mottet Klein, der hier den Simon spielt und wieder mit grosser Unmittelbarkeit brilliert. Auch dieses graue Niemandsland zwischen Durchfahrtsstrasse und weiten Feldern, das in Home so eine wichtige Funktion einnahm und das auch hier wieder das Setting für die kleine Schicksalsgemeinschaft bildet. So unwirtlich die Umgebung, so schutzlos die eigenwillige «ménage à deux» von Simon und Louise, die mehr auseinanderdriftenden Satelliten ähneln denn einem familiären Verbund.
Die Story des Films entrollt sich als Reihe von lockeren Episoden über die Zeit einer Skisaison von Weihnachten bis Ostern. Der Suspense des Films nährt sich aus dem illegalen Treiben Simons und dem Geheimnis um Simon und Louise. Ein Geheimnis, das sich im Lauf der Handlung unvermittelt erschliesst, einen Moment lang den Film wie stillstehen lässt, um uns einen neuen Blick auf die Geschehnisse zu geben und den Erzählfaden in eine neue Richtung sich entwickeln zu lassen.
Diese emotionalen Kernszenen spielen sich insbesondere vor dem Kontrast von Oben und Unten, von Berg und Talebene ab. Nicht zuletzt deshalb nennt Ursula Meier – im Gegensatz zu ihrem vorangehenden Film Home, der sich in einer endlosen Ebene abspielte und den sie als «horizontalen» Film bezeichnete – ihren neuen Film als «vertikal». Und dies sowohl landschaftlich – oben die imposanten Berggipfel, das Ski-Halligalli, unten das schneelose Tal – als auch sozial: in der sonnenbeschienenen Höhe die sorglose (Traum-)Welt der reichen Skitouristen, der intakten Kleinfamilien, unten die prekäre Alltagsrealität von Simon und Louise. Kacey Mottet Klein spielt «das Kind von oben» (L'enfant d'en haut ist der französische Originaltitel des Films) unglaublich facettenreich: mal gewiefter kleiner Dieb, der ohne Gewissensbisse alles einpackt, was er verwerten kann – mal verletzlicher kleiner Junge, der in einer englischen Touristin die sehnlichst vermisste Mutterfigur erkennen will – mal umsichtig und fürsorglich, wenn er sich um seine ältere Schwester – eine grossartige Léa Seydoux – kümmert (kümmern muss) und mit seinen Diebestouren für ihr beider Auskommen sorgt.
Wie schon in ihren bisherigen Filmen gelingt es Ursula Meier einmal mehr, mit minimalsten Mitteln einen sozialen und emotionalen Mikrokosmos von ungeheurer Intensität zu kreieren: So liess sie schon in ihrem frühen Kurzfilm Tous à table (2001) in einer kleinen Tischrunde die Gefühle hochgehen, oder sie beschrieb im TV-Drama Des épaules solides (2002) die klaustrophobe Welt rund um die Heranwachsende Sabine, die in ihrem sportlichen Ehrgeiz alles andere – letztlich sich selbst – aus den Augen verliert. Oder die fast schon unheimlich harmonische Kleinfamilie in Home, die sich fernab von allem als heile Welt etabliert und deren Mitglieder zu den scheinbar einzigen Überlebenden in einem apokalyptischen Universum werden. In Sister nun taucht Ursula Meier mit grosser Einfühlsamkeit in die Welt von Simon ein: in seine Einsamkeit, seine Suche nach Geborgenheit und familiärer Wärme, seine kurzen Momente der Verbundenheit mit anderen, seine Traurigkeit, aber auch seinen Überlebenswillen. Simon, der kleine Junge, und Louise, die junge Erwachsene – die sich beide nach Geborgenheit sehnen und beide leer ausgehen. Ja: sich fast gegenseitig im Weg stehen.
Zu der Intensität, welche die an sich unspektakulären Ereignisse in Meiers Film gewinnen, trägt insbesondere die unaufdringlich-agile Kameraführung der vielfach preisgekrönten Agnès Godard viel bei, die als Kamerafrau von Claire Denis zu Berühmtheit gelangte und die schon in Home für die Kamera zeichnete. Godard findet die richtige Mischung zwischen Dynamik – die uns in die engsten Räume miteinbezieht oder etwa in die physischen Rangeleien zwischen Simon und Louise – und ruhigen, statischen Einstellungen, welche die Weite (und Verlorenheit) einfangen, in der die beiden Hauptfiguren je auf ihre Weise versuchen, nicht unterzugehen. Unterstützt wird sie durch die Musik von John Parish, der immer wieder die Bilder einen Moment lang dem dramaturgischen Fluss entrückt oder durch kurze Momente der Lautlosigkeit den Film augenblicksweise in der Schwebe hält.
Godards Bilder schaffen es auch, die hiesige Bergwelt selten nüchtern und abgeklärt ins Filmbild zu rücken: Zuerst hat der Film gar keinen Blick dafür – sehen wir doch die Welt mit Simons Augen, und dessen Aufmerksamkeit wiederum gilt nur prall gefüllten Rucksäcken, teuren Accessoires und angesagten Skimarken. Dann, erst zum Ende des Films, sehen wir die Landschaft – bei Saisonschluss: Simon ist ausgebüxt, hat sich mit einer der letzten fahrenden Gondeln in die Höhe tragen lassen – an den Ort, der, eben noch voller Trubel, nun verlassen daliegt, wund geschabt von den zahllosen Skifahrern: eine versehrte Natur, deren Oberfläche von braunen Streifen durchzogen ist, wo sich während der Touristensaison die Pisten entlangschlängeln. Eine geschundene Landschaft – die viel Ähnlichkeit hat mit der wunden Seele unseres Protagonisten Simon.
Reportage dans RTS info sur "L'enfant d'en haut"
Interview with Ursula Meier
Interview mit Ursula Meier
Movie Data
o
Original languages
French, English
Important Awards
Berlin Filmfestival 2012: Silver bear - Swiss Film Awards 2013: Best fiction film, Best screenplay, Best actor in a leading role
Bonus
o
Reportage dans RTS info sur "L'enfant d'en haut"
Interview with Ursula Meier
Interview with Ursula Meier
Interview mit Ursula Meier